Best Lacrosse Cleats: Lacrosse is a rough and aggressive game that's why it is necessary to opt for the correct lacrosse gear that suits your specifications.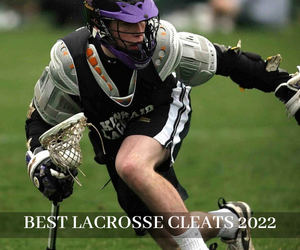 Whichever lacrosse gear you suit should be comfortable and supportive and the same rule applies to your shoes as well it should be supportive and lightweight.
For better gameplay, you need equipment like a helmet, gloves, and Lacross sticks that can provide you protection, comfort, and support, such as its manufacturing material, spikes, looks, and search other specifications which are very necessary.
That's why you need to choose wisely so that you can elevate your game, here we have also enlisted some necessary points and features you need to know before you go and buy any lacrosse cleat.
Here we have listed some items with their reviews that you can buy in 2022.
Savings For Best Lacrosse Cleats [DEALS]
Top 3 Lacrosse Cleats
All the products we have reviewed are the best ones in the market but few people are not very good at making decisions about any product or knowing which one they should go for in that case we can only help you by declaring our best three products from the total products we have reviewed.
6 of the Best Lacrosse Cleats
#1. Asics Men's Gel-provost Mid Lacrosse Cleat -The most comfortable lacrosse cleats
Asics is a well-known brand as it manufactures all the athletic gear and trainers as well.
The athlete is specially designed for lacrosse that's why the position of spikes is a bit different in the shoes which are designed for lacrosse to provide you a better grip.
It also provides enough balance and support you need while playing lacrosse.
There is a bit difference between cleats and trainers, trainers' size is ideal for a men's foot, yet kids and youth can't use it, but the cleats are ideal for youth kids and men as well.
This cleat is very durable as the spikes and outer sole are made up of rubber, and the plate which keeps the stud and sole attached is made up of polymer, which is considered to be durable.
Manufacturers have focused a lot on comfort as it offers a removable inner sole and the heel is cushioned with some kind of gel.
It features a bit breathable body which makes your food sweat-free while playing which means it is perfect for comfort.
This product provides an ideal height of a heel which is 10 mm according to the professionals this is the perfect position for your foot while playing any sort of sport.
It better suits those people who have flat feet, if you are not used to it, then it might be a bit uncomfortable for you.
#2. Mizuno 9 Spike ADV YTH FINCH FRHSE6 BP Youth Girls Molded Cleat -The Best Lacrosse Cleats for Kids
This one is specially designed for kids because lacrosse is not only played on the playground it is a school and college-level game kids also used to play this game and as per our research, this is the only quality product specially designed for kids.
This trainer is unisex so it is suitable for both girls and boys.
It is available for kids and teens as well, can find it in ranges one is for kids 4-8 years old and the second one is for teens 8-12 years old. It is available in 1.5 to 5.5 US sizes it is also available in half sizes.
It is manufactured with multiple synthetic materials it's sole and spikes are made up of rubber, it also has been padded to provide the necessary comfort.
It also features a mesh tongue to make it highly breathable. It has 9 spikes for better grip. It is available in only one color option.
#3. Mizuno Women's 9 Spike Swift 4 Fast Pitch Metal Softball Cleat -The best metal spike lacrosse cleat
Mizuno is a well-known brand for manufacturing sports gear such as cleats and gloves.
The position of spikes is strategically placed for better grip and stability. It features spikes on the toe tip area, which is considered to increase your grip and stability on the field.
It features an inner foam sole which is well known for following your foot shape to provide you comfort.
It features metal spikes that do harm the playground a lot you must be able to feel the impacts, in that case, the inner area of the shoe is covered with a soft lining to make you comfortable and provide you the necessary support you need.
As it falls in the low-type cleat category it won't provide very much protection to your ankle. It is available in a variety of colors.
#4. Warrior Men's 2nd Degree 3 lacrosse Shoes -The widest range of cleat sizes
WARRIOR Men's 2nd Degree 3 Lacrosse Shoe
Elevated TPU in the lateral and medial sections of the heel and forefoot...
Medial cork screw studs deflect field turf beads during roll-specific...
Triad flex system features three rip-stop prongs located in the forefoot...
The Warrior Men's 2nd Degree 3 lacrosse Shoes are designed for men.
This trainer has a wide range of sizes, which is also a plus point of this product there is a lot of product in the market which doesn't provide the perfect size we need or they don't have enough sizes we need.
It is available in sizes 6 to 14 and a half sizes as well. Half sizes are designed for those players who have a smaller and wider foot.
This product provides you a bit of extra protection if it falls in the category of the mid-type cleat. It provides additional flaps over the turn of the trainer and above the ankle so that you can tie the laces easily and gain the optimum protection it can provide.
This trainer is highly breathable as it features tongue mesh and it is designed in such a way that it has holes in several places.
you will get to see a drawback in this product that it doesn't have any midsole and its outer sole is a bit thinner than any athlete shoe. It also provides less cushioning which increases the chances that it can wear out quickly.
It is lightweight and available in a variety of colors and styles you can choose between silver, black, navy, red, etc.
#5. Nike Women's Hyperdiamond 2 Keystone Softball Cleat -The best-looking lacrosse cleat
Nike is a well-known brand for manufacturing sports shoes etc.
The Hyperdiamond 2 Keystone is one of the cleats they manufacture we can see that they just speculated by manufacturing this because this one was not specially designed for lacrosse.
They manufactured it for softballs but luckily the features matched required in lacrosse games. So, it won't be a drawback to use it in lacrosse.
It features the highest number of spikes in the market, most of the brands provide 10 spikes but Hyperdiamond 2 Keystone features 12 spikes for better grip and reinforced toe tip.
It is durable as well as its outer soul and spikes are constructed with high-quality rubber. It can absorb the impact forces as itsPhylonmidsole is designed to absorb the impact to protect your foot.
It is lightweight in comparison to any other product we have reviewed, due to its lightweight it allows you to move very fast.
It falls in the category of low mid Cleat type, this can be a drawback for those who wanted a shoe that can also protect their ankle, but you can cover it up by wearing some sort of ankle braces for protection.
This trainer is highly breathable as its inner is covered up with mesh lining and it is cushioned inside the shoe to provide you the comfort.
It is available in a variety of colors, it not only looks attractive but also performs very well on the field.
It is available in 6 to 11 sizes and half sizes as well. If you are a man or a boy and want to purchase this product then you need to keep in mind that this one is designed for women so there can be a bit of difference in the size.
#6. Men's Highlight M.C. Lacrosse shoes -Specially designed for men 
Under Armour Men's Highlight Mc Football Shoe
New, engineered synthetics are strategically zoned in the upper to provide...
Supportive construction is still extremely lightweight
Molded 4D Foam footbed conforms to your foot's exact shape, eliminating...
It provides perfect support as it features UA clutch foot upper wrap which wraps your foot like a second skin and provides the optimum protection.
An extended eyebrow cut offers flexibility and makes it easy to enter into the shoes.
3D molded MPZ tongue adjusts itself as per your feet and provides you the optimum comfort.
Molded 4D foam footbed allows your food to be in a perfect position it eliminates sweat and avoids slippage and reduces the pressure of the cleats. As it avoids slippage, it is also preventing you from discomfort and blisters.
It is available in a variety of colors you can choose between metallic silver, red and team royal, midnight Navy. Due to its amazing feature, this product made our top list.
What Do You Want in Lacrosse Cleats?
Lacrosse is an active game you need to move constantly with such a high speed that you need a shoe that can help you in maintaining your grip on the field.
There is a different kinds of grips.
Traditional one was made up of metal which gives the perfect grip to the players but this kind of grip was cruel to the field as they cause damage to the field that's why a lot of sportspersons and fields started to oppose metal spikes, and now there are very rare fields where you are allowed to use metal spikes.
There is also a substitute for metal spikes such as plastic or fiber spikes or rubber spikes.
Fiber and rubber spikes are very familiar to the field as they don't cause any severe damage and it also very much more durable than metal spikes because it doesn't like the cleat to wear down easily.
But few of the players have some issues with plastic or rubber spikes as they don't feel the group they want in easy words we can say they slip easily.
so before choosing any random lacrosse cleat, you need to know which type of ground you are going to play.
You should also need to know how much protection your lacrosse cleats are providing.
Could Other Lacrosse Cleats Work?
Yes, you can use other lacrosse cleats but before that, you need to know some minor points that what kind of lacrosse can be used in lacrosse as well as any other game.
You don't need to buy different Running Shoes for every game because there is the only difference in structure and distribution of spikes, in a few of the games the distribution of spikes and structure is almost the same.
So their shoes can be used if they matched the specifications of lacrosse.
The shoes designed for baseball or softball can be used for lacrosse because the distribution of spikes is the same in baseball and lacrosse. Their structure and specifications used to be the same most of the time.
But the cleats which are designed to play soccer or football can't get used in lacrosse because their overall structure is a different distribution of spikes is different.
Attributes to Look for in Your Cleats
There are some specifications you need to look at when you want to buy lacrosse gears and cleat there is a small list on which you need to focus.
Style
Only looking for specifications can be a bit boring because the gear you are going to own, should match your style, obviously it won't make any difference in your game but yes it can make a bit of difference in your confidence.
Support
Every player has his / her different playing technique that's why you need to look for a shoe that can match your gameplay and also provide you comfort and protection simultaneously.
In a shoe, comfort plays a vital role.
The main thing is support for that you need to know how to focus on leg health, foot health, and ankle health because if you won't have any support from your shoe it will be very difficult for you to play for a long time on the field so try to choose wisely after knowing that what kind of specifications you need.
Breathability
Sweat is very disturbing if you are trying to focus on your game, it is natural you can't get rid of it but yes you can minimize its consequences by owning breathable sportswear which absorbs the sweat and allow the airflow throughout your foot so that you won't feel that much uncomfortable.
In a game, you are going to lose a lot of sweat.
Sweat is also a reason for some sort of fungal infections, so breathable cleats can save you from such infections.
Type
Cleats are of three types Low type cleats, mid-type cleats, and high-type cleats.
Low Cleat:
low cleats are the lightest ones. They offer the least amount of support as it covers your legs below your ankle we can say that it only covers your foot, it doesn't provide any support or protection to your ankle but players do prefer this because of the flexibility it provides.
Mid Cleat:
mid cleats are a bit longer than low cleat as it covers your ankle and provides support and protection to your ankle and foot as well. And with this much protection, it is still lightweight.
High Cleat:
If this one is the best option for you if you have ever suffered from ankle injury or discomfort so you can choose this because it covers your leg up to your calf, and provide maximum support and protection.
Players who never had any ankle injury or discomfort can also use this.
Weight
Any lacrosse gear you use should be lightweight so that it won't affect your mobility.
Now you must be thinking that how sports shoes can affect your game but trust us it can affect your game to the next level because you won't feel until you had played with any heavy cleats they do affect your mobility and your playing speed as well.
The weight of lacrosse cleats is based on the material from which it is manufactured so you need to check out before buying what kind of material is used in its construction.
Conclusions
The products we have reviewed are the best in the market all these have their different specifications now it's up to you that what kind of specifications you are looking for you need.
because the same kind of shoe can't be suitable for each and everyone you need to choose a different one as per your need, comfort, and specification. 
Relevant Buying Guides