Casino Game In Your Wedding Overview: Due to popular beliefs and ideas, the term casino is likened to gambling which is regarded by many as wrong and against religious beliefs. While this idea is wrong, a fun casino is a game of fun aimed at exciting individuals and offering them prizes.
There is no better way to entertain your wedding guest than by incorporating a casino machine/game during the event. Hiring a mobile fun casino at your wedding is a great way to enhance your special day and entertain your guests.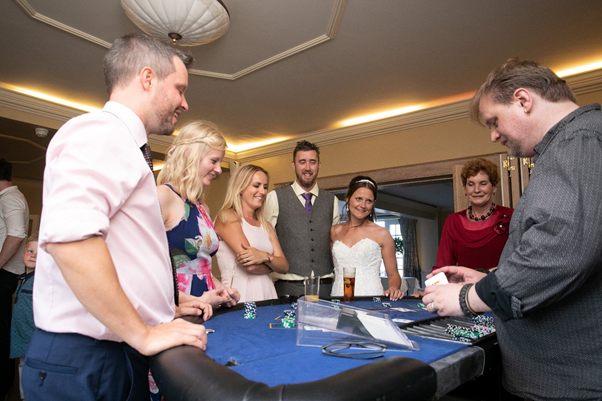 When it comes to hiring a mobile fun casino for your wedding occasion, several aspects need to be covered and understood before hiring one. The first aspect that needs to be understood is the idea of, how does wedding casino hire works?
HOW DOES WEDDING CASINO HIRE WORK?
The hire company will normally arrive before play starts in order to set up the tables and hand out the fun money.
For a wedding casino game to be a success, wedding guests are given some fun money which will be distributed and then exchanged for chips at the tables, guests can then play blackjack, roulette, poker, or any other game is available, or you have requested. The Fun Money can be custom-made with the image of the happy couple if required. (normally a small fee).
Depending on the wedding casino hire company you may be using, there will be the provision of croupiers who will be happy to explain all the rules and how to play the games which can then be played to normal casino rules (nothing too strict though) and players can at any time surrender chips for a voucher with the croupiers. At the end of the play, the players that have the most chips will be awarded prizes either by the manager or the event organizer.
It is always advisable to book your casino tables ahead of the arrival of your guest. This will allow for all your guests to fully participate and enjoy the fun associated with the games. It is important to note that no real gambling takes place but just for fun with prizes won by guests.
WHAT DO YOU GET WHEN YOU HIRE A FUN CASINO FOR YOUR WEDDING
Decent Equipment:
When you order a fun casino for your wedding, you will receive a ​full-size Roulette wheel, numbered cash chips, and other extras.
Professionally trained croupiers:
Most casino hire companies offer interested clients professional, helpful and well-trained croupiers that will handle the affairs of the casino tables ensuring that guests who join the tables are shown how to play. All croupiers are professionally trained, well-groomed and most importantly have the quality required to engage with guests ensuring they have a great time.
Personalised Service:
You can also have personalized playing cards or casino chips made for you and your event at an extra cost.
Table Lighting
​Bottle of Bubbly for the Winner
Themes can be arranged such as James Bond or Las Vegas.
WHY HIRE A CASINO FOR YOUR WEDDING PARTY?
Hiring a casino is a great way to entertain your wedding guest. This entertainment is versatile; It can be hired for the main reception, or to bridge any gaps such as the wedding breakfast and the evening reception. It can complement any other form of entertainment such as a live band, disco, singer and is entertaining enough to have alone without the need for additional entertainment.
Incorporating a fun casino into your wedding party is the perfect icebreaker. It is a great way to build interaction and relationships with your guests. This is possible because casino hire companies tend to provide professional, knowledgeable, and friendly croupiers that help in creating a welcoming atmosphere instantly, and your guests will be mixing, laughing, and having fun in no time. Relax, enjoy and mingle with your guests, and while enjoying your casino game fun.
Most hire companies to have a choice of games to help entertain your guests. Blackjack and Roulette are by far the most popular, but games like 3 card brag and Stud Poker are increasing in popularity.
Roulette is the ultimate game of chance with the players betting on the outcome of the wheel. It looks a lot more complicated than it is. But it really is just a guessing game and gets lucky.
Blackjack is the most popular in a Real-World Casino and it's also a very popular choice at a Fun Casino. The classic game of 21's. get as close to 21 as possible without going over and if you have a higher total than the dealer, then you win. 
Hiring a casino for your wedding event is easy and does not require a special license because your guest won't be using real cash or money in playing the games. Also, it is a game for all ages, races, and gender.
Related Post With Guides