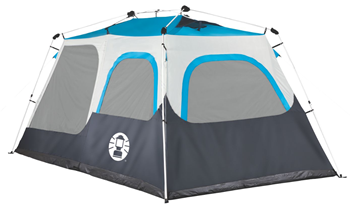 Overview: The Coleman cabin-style instant tent series comprises 4 models with a sleeping capacity of four, six, and eight (2 versions) people. All four models are among the most sought-after family camping tents by campers who want a tent that's affordable, durable, spacious, comfortable, and easy to setup.

However, there's one drawback: None of these 4 models includes a * rainfly.
* Rainfly:
A rainfly is an essential component of any camping tent; it offers more protection from the rain and gives you several inches of air space to provide better airflow, allowing you to open the windows a few inches during a storm.
Stans Tips Savings For Rain Fly Tent [Deals]
This is how a Coleman Instant Tent Rainfly looks:
When the rainfly is attached to the Instant Tent:
Please Note: Each instant tent's rainfly can be purchased separately – See the comparison chart further down this page for details.
Tent Quality:
These instant tents come equipped with Coleman's exclusive WeatherTec™ System Keeps you dry Guaranteed™ incorporating the latest technology to protect campers from the elements.
WeatherTec tents are built with a coated polyester fabric combined with anti-wicking thread, webbing, and zippers, all designed to keep campers dry when the rain comes down. The tent's welded waterproof floor and inverted floor seams, meanwhile, dramatically increase the water resistance by hiding the needle holes inside the tent and away from the elements. And campers will love the strong, wind-responsive frame, which includes redesigned poles and guy-out triangles that anchor the tents and increase performance. Coleman guarantees its WeatherTec tents will keep you dry.
Other features include vertical walls that make it easy to stand and move around the tent, an interior gear pocket, reverse angle windows, and easy-to-follow instructions sewn into the carrying bag. The tent carries a limited one-year warranty.
Ease Of Setup:
As verified and confirmed by customers/users from the Amazon marketplace, these cabin-style tents are unbelievably quick and easy to set up. This is what made the Coleman Instant Tent series so popular. Some experienced campers can set up the tent in less than 5 minutes. Product guys from Coleman did it in 28 seconds (see video demo)! Taking down the tent (disassemble) is just as easy.
The secret to the tent's easy setup is the pole system that comes pre-attached to the tent. As a result, the assembly couldn't be easier–just unfold the tent, spread it out, extend the poles, click them together, and lock them into place. Done.
Related Guides And Reviews