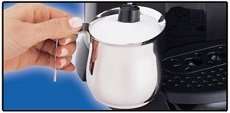 Overview: If you're looking for a moderately priced machine that makes delicious cups of espresso and cappuccino without the annoying start-up preparation with the self-priming operation, the DeLonghi 15-Bar Retro Pump Espresso Maker will deliver the performance you need.
With 15-bars of pressure and the capability to use ESE pods
or fresh coffee grounds, you can be your own barista. Like other DeLonghi machines, the Retro is super sleek and stylish, serving as a trendy accessory on your kitchen countertop. Weighing less than ten pounds, you can easily move and clean around the espresso maker.
StansTips Saving For Cappuccino Maker [Deals]
Other highlights include a self-priming option, stainless steel boiler, swivel jet frother, dual filter holder for both pods and coffee grounds and two thermostats for steaming milk and coffee. The DeLonghi Retro is where affordability, practicality and performance come together.
PROS:
1. Dual Filter Holder
Thanks to the patented dual function filter holder, you can use the DeLonghi Retro with ESE pods or ground coffee. With the affordable price tag on this espresso maker, the filter is a bonus to have since most machines are limited solely to coffee pods or ground coffee, not both. With the DeLonghi Retro, you have a world of options at your fingertips. The ESE pods are easy to use since there is no measuring or mess, while using fresh coffee grounds gives users more control over taste and smoothness. Plus, you can save money by using coffee grounds while still having the convenience of using the pods when you want.
2. Two Thermostats:
Adding to the DeLonghi Retro's image is the two separate thermostats that allow water and steam pressure to be controlled separately. This makes it easy to brew espresso at the perfect temperature, avoiding the common pitfall of having the temperature not warm enough with automatic machines. To control the thermostats, use the silver knob that has two options to preheat the water for steam and preheat the water for coffee. Finally, you can enjoy the convenience of an automatic machine while getting cups of espresso at the perfect temperature.
3. High-Quality Components:
You'll be pleased to see that the DeLonghi Retro has high-quality parts even with its catchy price point. On the whole, milk frothing wands rarely exceed what is expected from them, even on those machines that cost thousands of dollars. With the DeLonghi Retro, you get a quality milk frothing wand that is made from durable stainless steel and plastic. Many of the internal parts are also made from stainless steel such as the brew group and boiler. The built-in tamper is a nice feature because it's one less part to lose, although some people replaced this part because they felt it didn't work as well as it should. You also get a decent-sized water tank that allows you to make six to eight espressos with one fill.
CONS:
1. Plastic:
The DeLonghi Retro is made primarily of plastic, with the exception of some of the internal parts such as the boiler, portafilter and brew group that are made from stainless steel. Some people are concerned about the long-term durability of the espresso maker because of its plastic construction. Although plastic parts are not always ideal, it keeps the price of the machine down considerably. Some machines boast a stainless steel exterior but still have plastic parts on the inside; at least with the DeLonghi Retro, you get a stylish, lightweight machine for a fraction of the price. However, if you want something heavier, sturdier and with more stainless steel parts this machine is not for you.
2. No Cup Warmer:
If you enjoy having a cup warmer to keep your mug of espresso warm, you'll miss out on this accessory with the DeLonghi Retro. The machine has a plastic tray where the coffee mugs sit, but they won't do much in keeping your cups warm. Even though many other machines come with cup warming trays, the machines are more expensive and the trays often don't work well. With the DeLonghi Retro, you get a more affordable machine and don't have to worry about a subpar cup warmer that doesn't live up to the hype. And, you can control the temperature with this machine thanks to the manual settings and thermostats that help keep the temperature of the coffee hotter.
3. Limited Cup Space:
The distance between the steam wand and the drip tray is not very tall, which makes it difficult to sneak in any cup that is larger than a standard-sized mug. If you try to use a larger cup, say more than 16 ounces, you'll have to tilt it to fit underneath the steam wand, which will in turn cause the foamy layer to drip out of the mug. Some people use a smaller shot-sized glass and then transfer the espresso to a large mug. Although it's a small issue that doesn't affect the performance of the machine, you may want to see if your current mugs will fit conveniently with the DeLonghi Retro.
BOTTOM LINE:
The DeLonghi Retro
is a smart, cost-effective purchase for those that want an espresso maker but don't want to shell out an entire paycheck for one. The affordable price tag isn't the only feature worth talking about; the DeLonghi Retro is one of few in this price range that can handle both ESE pods and coffee grounds. Easy to clean, lightweight and stylish, this espresso maker is perfect for the home, office or vacation home.
Buy DeLonghi Retro
Specifications & Features:
Input Power: 1100 watts
Boiler: Stainless Steel
Pump Pressure: 15-bar
Product Dimensions: 10.6 x 8.7 x 12.6 inches
Product Weight: 9 pounds
For use with ESE pods and ground coffee
Self-priming option
Two thermostats allow for water and steam pressure to be controlled separately result in the perfect temperature every time
Dual function filter holder
Swivel jet frother
Related Guides And Reviews
How To Buy An Espresso Machine
Delonghi Nescafe Dolce Gusto Creativa Plus Coffeemaker Review
Delonghi Lattissima Plus Nespresso Capsule System Review
Cuisinart Em 100 Espresso Maker Review
Blender Buying Tips