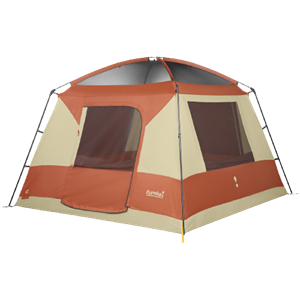 Overview: The Eureka Copper Canyon 6 Tent is part of the free-standing, cabin-style Eureka Copper Canyon Tent series, which comprises 4 models (Copper Canyon 4, 6, 8 & 12) for sleeping from four to twelve people. One large 'D' Style door simplifies exit or entry. 4 large zippered windows (two on each side) and a generous roof vent allow for excellent ventilation.
The hybrid steel/fiberglass frame is sturdy and reliable. Set up is a breeze with shock-corded poles that attach with a combination of clips and sleeves and that makes set up faster and easier. The near-vertical walls create very good useable space inside the tent; a great choice for recreational and family camping.
StansTips Savings For 6 Person Tent [Today Deals]
Eureka Copper Canyon 6 Tent Highlights:
Style: Cabin Style; free standing design
Seasons: 3
Sleep Capacity: 6*
Floor Area: 100 sq. ft.
Floor Size: 10 x 10 feet
Center Height: 7 feet
Packed Size: 26 x 8 inches
Weight: 24 lbs
No. of Poles: 6
Pole Material: Powder coated steel/fiberglass
Vents: Full mesh roof
No. of Doors: 1
No. of Windows: 4
2 mesh gear pockets for internal storage, clothes line loops and flashlight loop
Gear Loft: Included
All carry bags and stakes included
E! Power Port – zippered flap allows for an extension cord to be run into the tent
Fire retardant
Floor Material: 75D polyester taffeta 1200mm coating
Fly Material: 75D polyester taffeta 1200mm coating
Wall Material: 75D polyester taffeta 1200mm coating
Roof Material: 68D polyester no-see-um mesh
Netting: 68D polyester no-see-um mesh
Warranty: Eureka Tents is a part of Johnson Outdoors Gear, Inc. See details in Copper Canyon 6 Tent Manual
Eureka Copper Canyon 6 Tent Review
Do You Know: How To Choose the Right Family Camping Tent? [Definative Guide]
*Note: The tent spec states that it's a 6-person tent, it just means for 6 persons to sleep inside and with NO room for storage of your camping/hiking gears & supplies. If you need additional space for storage purposes, consider buying a tent at least 2 sizes larger (Copper Canyon 8). Or, use the Copper Canyon 6 for 4 people if want to adjust more people then you may go for the Coleman Montana 8 Tent which is an alternative option as well.
Comparison of Eureka Copper Canyon 4, 6, 8 & 12
Standard specs & features for all 4 models:
Tent style: Free standing cabin style
Seasons: 3
Center height: 7 feet
Bathtub floor wraps up sides
Zippered E! power port
Frame: 12.7mm fiberglass & 19.5mm steel, ring & pin
Full mesh roof
Gear Loft: Included
Flashlight Loop: 1
Hang Loops: 8
Wall material: 75D 190T polyester taffeta, 1200 mm coated
Fly material: 75D 190T polyester taffeta, 1200 mm coated
Floor material: 75D 190T polyester taffeta, 1200 mm coated
Mesh: 68D polyester no-see-um
All carry bags and stakes included
Fire retardant
Other specs & features are listed in the following comparison chart:
| MODEL | EUREKA COPPER CANYON 4 | EUREKA COPPER CANYON 6 | EUREKA COPPER CANYON 8 | EUREKA COPPER CANYON 12 |
| --- | --- | --- | --- | --- |
| Sleeps | 4 | 6 | 8 | 12 |
| Floor Area | 64 sq ft | 100 sq ft | 130 sq ft | 168 sq ft |
| Floor Dimensions | 8′ x 8′ | 10′ x 10′ | 13′ x 10′ | 14′ x 12′ |
| Estimated Cost of Ownership | $519 | $ | $799 | $719 |
| Buy from Amazon | Buy Copper Canyon 4 | Buy Copper Canyon 6 | Buy Copper Canyon 8 | Buy Copper Canyon 12 |
| Pack Size | 7″ x 26″ | 8″ x 26″ | 10″ x 28″ | Row:4 Cell:5 |
| Weight | 18 lbs 10 oz | 23 lbs 2 oz | 34 lbs 2 oz | 38 lbs 12 oz |
| Rooms | 1 | 1 | 2 | 2 |
| Doors | 1 | 1 | 2 | 2 |
| Windows | 4 | 4 | 6 | 6 |
| Storage Pockets | 2 | 2 | 6 | 6 |
Related Guides And Reviews