On a side note, only Eureka Tents have over 100 years of tent-making history behind them…
In 1960, Eureka's new and innovative Draw-Tite tent, with its practical, free-standing external frame, was used in a Himalayan Expedition to Nepal by world-renowned Sir Edmund Hillary, the first person documented to summit Mt. Everest only six years earlier, and today we are reviewing the eureka titan 8 person tent with installation setup.
Eureka! Titan - Tent (sleeps 8)
Nylon,Oxford
Roomy rectangular tent with room divider sleeps eight (13' 6" by 9' 6" floor; 128 square foot area)
Heavy duty shock-corded self-supporting 6000-series aluminum frame
In 1963, Eureka made history during its own Mt. Everest ascent, with more than 60 of its tents sheltering participants from fierce 60+ mph winds and temperatures reaching below -20°F during the first all-American Mt. Everest Expedition.
Eureka tents have also traveled as part of several historic expeditions, including the American Women's Himalayan Expedition to Annapurna I in 1978 and the first Mt. Everest ascents by a Canadian and American woman in 1986 and 1988.
Instant Saving For Eureka Titan Tents [Deals]
On April 28, 2004, world-famous adventurer and geophysicist Pasquale Scaturro and his international explorers completed the first-ever single, uninterrupted navigation of the entire Blue Nile Coleman Evanston 8 Screened Tent. The team chose Eureka! K-2 XT and Kahuna tents as their exclusive shelters during their four-month, 3,060-mile journey.
Eureka Titan 8-Person Tent Overview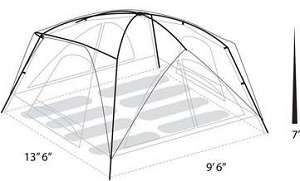 The Titan is a large (13.5 feet x 9.5 feet) rectangular umbrella hub-style season tent with 6 large windows for optimal ventilation. It is an end entry tent with 2 doors, one at each end. The heavy duty Oxford Nylon bathtub floor is built tough to withstand the elements. Key features include shock-corded aluminum poles, No-see-um mesh windows with Storm flaps, hooded windows for ventilation, even in the rain, and Eureka's simple set-up Pin & Ring system. A removable room divider can make this a 1 or 2-room tent. Added sidewall pullouts increase the already spacious interior size. All clips and color coded make set up quick and easy.
Eureka Titan 8-Person Tent Highlights:
Tent Style: Rectangular Umbrella Hub Dome
Season: 3
Sleep: 8*
Rooms: 2
Floor Size: 9'6″ x 13'6″ ( 128 square feet)
Center Height: 7 feet (84 inches)
Packed Size: 12″ x 29″
Weight: 32 pounds
Fly is made of 75D StormShield polyester, 1200mm.
Factory Sealed Fly and Floor Seams.
Bathtub Floor – 4 oz. Oxford nylon floor is tough and durable.
6 hooded windows (1 in each door, 4 side) allow optimum ventilation even in rain; all windows have Storm Flaps.
2 doors (with windows) for easy exit/entry.
A removable divider for a room makes a 1 or 2-room tent.
Freestanding design for easier setup.
Shock-corded aluminum frame.
Color-coded all clip setup is fast and easy.
Corner Closet rings allow the use of clothes hangers.
Center flashlight loop and clothesline rings for a gear loft.
Flame Retardant.
Eureka Titan Tent Installation Instructions [Quick-Start PDF Manual]
Note: The tent spec states that it's an 8-person tent; it just means for 8 persons to sleep inside and with NO room for storage of your camping/hiking gear & supplies. Coleman Instant Tents 4, 6, And 8 Persons comfortably if you need plenty of space for storage purposes.
Eureka Titan 8 Person Tent frequently asked questions (FAQ)
Are Eureka Tents any good?
Are Eureka Tents any good? Are they worth your money and time? The answer is yes, If you're looking for a tent that offers outstanding performance, then the Eureka Titan 8 Person Tent is an excellent choice.

This well-made and reliable tent is constructed with 75d stormshield polyester fly for superior durability and tear resistance. It also features a two pole frame design with shock corded fiberglass poles for easy setup in minutes.

Additionally, the large side windows provide plenty of ventilation to keep you cool on hot days. Whether camping in the backyard or heading out on an extended trip, this quick-start guide will help you decide if the Eureka Titan 8 Person Tent is suitable for you.
What is the best 8-man tent?
Are you looking for the perfect 8-man tent to accommodate all your friends or family? The Eureka Titan 8-Person Tent is an excellent option for any outdoor camping enthusiast.

This large, rectangular tent has an umbrella and plenty of features that make it ideal for larger groups. You can easily keep your gear organized with corner closet rings for hangers and clothesline rings at all eaves.

Mesh storage pockets on the ceiling panels provide easy access to items stored overhead. Setup is quick and easy with color-coded poles and clips, allowing you to enjoy the outdoors more than setting up camp. Plus, this tent offers full headroom so everyone has plenty of space for standing up inside.

Whether car camping with a big group or backpacking into the wilderness with several people, the Eureka Titan 8-Person Tent will be a great fit!
What is the most robust tent?
The Eureka Titan 8 Person Tent is one of the most robust tents available today. Its heavy-duty construction and removable room divider provide a spacious interior space that can accommodate up to eight people.

The tent also features two side wall pull outs that maximize interior space and extra large windows for enhanced ventilation. Additionally, this tent has been designed with an extra-large door for easy access and a convenient rainfly system that offers superior protection from inclement weather.

If you're looking for a reliable and long-lasting tent, the Eureka Titan 8 Person Tent is an excellent choice. In this review article, we'll discuss this model's benefits to help you decide if it's the right tent for your needs.
What is the best tent for a family of 4?
When choosing the best tent for a family of four, there are many things to consider. The Eureka Titan 8 Person Tent is an excellent choice, as it is designed with a heavy-duty shock corded self-supporting 6061 aluminum frame and a tent with umbrella hub.

It offers superior strength and durability that will stand up to any weather conditions and accommodate a party of eight. This tent also has an easy setup system that allows you to quickly set up your camping area without having too much trouble.

In addition, this model features two large doors for accessible entrance into the main room as well as generous storage pockets inside for keeping items organized during your stay. With its spacious interior and large windows for plenty of ventilation, the Eureka Titan 8 Person Tent is sure to be a hit with the whole family!
What is the most durable tent?
When it comes to outdoor camping, having a durable tent is essential. The Eureka Titan 8 Person Tent offers the ultimate in durability and convenience for larger groups of campers.

Featuring heavy duty shock corded self-supporting 6061 aluminum frame poles and a full coverage fly with taped seams, this tent provides plenty of protection from the elements while remaining lightweight so you can transport it easily.

Two large spacious doors provide easy access while also providing plenty of ventilation throughout the interior. This tent is designed to withstand even the harshest weather conditions, making it ideal for any camping trip. It offers plenty of storage space, an area rug, and privacy panels to create a comfortable atmosphere in your campsite.
What is the best 4 person tent?
If so, you may consider a 4 person tent for your group. The Eureka Titan 8 Person Tent is perfect for camping trips big and small, offering plenty of room for four people and their gear.

With its unique rectangular design and large high-low doors, the Eureka Titan 8 tent provides an easy setup process that ensures a comfortable stay in any environment. Plus, the tent includes an adjustable umbrella flysheet that allows campers to adjust the amount of sun exposure in their space.

Whether you're a weekend warrior or an experienced camper, this tent offers something unique – a stylish design with quality construction that makes it durable enough to last through multiple camping trips. Read on to find out more about what makes this 4 person rectangular tent such a great choice!
What is the best 6 Person tent to buy?
Eureka Copper Canyon 6 Person Tent
is your best choice for a tent for a family of 6. It is spacious and offers a lot of storage space for your camping gear. It is a comfortable tent that is easy to set up.
When it comes to camping, having a sturdy and reliable tent is essential. Choosing the best 6 person tent can be tricky because there are so many options out there.
If you're looking for a high-quality tent that will keep you comfortable in all weather conditions and provide plenty of room, then the Eureka Titan 8 Person Tent may be the perfect choice for you. This spacious dome-style tent has two sides for all weather protection, large windows well above ground level and an easy setup that makes it great for larger groups of campers.
It also has a lightweight design that packs down small making it easy to transport when car or backpacking camping. Whether you're planning a weekend getaway with friends or family, this versatile tent offers plenty of features to make your next outdoor adventure enjoyable and comfortable.
BOTTOM LINE:
A good tent is the most crucial piece of gear for your entire camping trip. You get what you pay for; the cost of owning a Eureka tent is generally much higher than any average camping tents out there on the market. So, if you're a demanding camper who looks for high quality, reliability and comfort all in one, the Eureka Titan tent will not disappoint you.
Related Tent Guides And Reviews