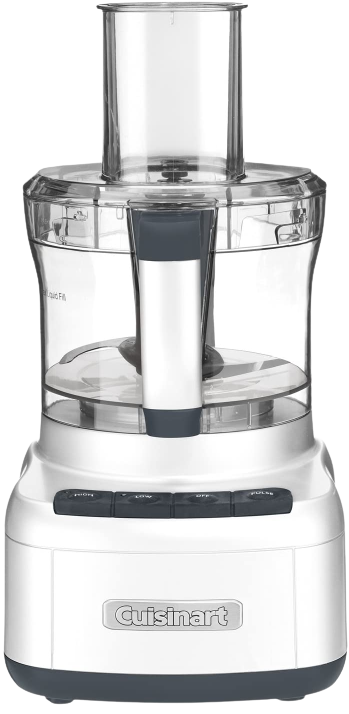 Overview: Food processors save you time, money, and work by doing most of the chopping, slicing, mashing, and stirring work for you. A great food processor makes and tosses your salads, blends your salsas and other fresh dips, quickly prepares veggies for soup, and slices, dices, and even juliennes your potatoes.
Start with size. There are food processors as small as one cup and as large as sixteen cups that are big enough to chop and blend enough tossed salad to feed your whole family. Wide-mouthed food processors can handle larger veggies with minimal preparation, and heavy-duty food processors do great with large volumes of food.
Buying the Best Food Processor:
Amazon carries the most popular food processor brands, including KitchenAid, Cuisinart, and Braun, ensuring you can always find reliable systems with easy-to-replace parts and accessories. A carefully chosen food processor will become your favourite appliance, easing all your meal preparation tasks and giving you fresh, healthy ideas every day for feeding yourself and your family.
Today Savings For Food Processor [Deals]
Food processors also vary in application. Specialty food processors like juicers and dough mixers are perfect for some people, while busy families may be better served with large 3-in-1 processors, which include multiple discs and attachments for handling every chopping and blending task in your kitchen. Your perfect food processor does all the tedious preparation tasks in your kitchen and even helps you eat healthier by making fresh from-scratch food preparation simple.
Here's a list of 11 items that you want to know before buying a food processor:
1. Motor Size:
Most food processors are fitted with motors that offer 500+ watts of power. While some models may have much more than that, 500W is more than enough for almost anything you would use a food processor for. The advantage of a more powerful motor would be the ability to process food much faster since the food processor is powerful, it will require much shorter pulses to get the work done.
2. What's The Capacity of the Bowl?
Bowl capacity in most processor models is around 7 to 14 cups. While some people may need 14 cups (if they have big families, etc.), 7 or 8 cups will be enough for most people.
In addition, some food processors have smaller "inner" bowls that are used for smaller quantities. This will be a nice convenience since some processors tend to have problems with smaller capacities.
3. Which Discs And Blades Are Included?
The blades and discs that come with the processor will determine the number of tasks it can perform. Most models have shredding, slicing discs, chopping blade, emulsifying disc and dough blades. Some advanced models may offer juicer attachments, french fry discs, etc. that add further value to the processor. Be sure to check the list of attachments that the model offers.
4. How Big Is The Feed Chute?
One of the biggest advantages of a food processor against food choppers is the capacity. However, if the feeding chute is not wide enough, this advantage somewhat loses its meaning. Fortunately, most models on the market feature very large chutes that you can use to put food inside without bothering with cutting them.
5. Is It Good At Kneading Dough?
Do you want to use the food processor to knead dough? Kneading dough requires slower rotations in order not to heat the dough. If the processor does not offer the ability to slowly knead, the blades can get stuck in the dough, or it can almost "cook" the dough unintentionally. In either case, you can end up with a mess and/or an unusable end product.
6. Is It Good At Slicing/Shredding And Chopping And Any Other Functions?
Besides from kneading, the main uses of the machine will be to chop, slice, shred, dice, mince, etc. It is imperative that you find out more information about the processor's performance on shredding/slicing, etc.
7. Are All Parts Dishwasher-Safe?
This one is more safety-related; some processors' blades tend to get too hot after a few minutes of use, posing a potential threat. Users often burn their fingers as they forget how hot the blades can get. Although it doesn't necessarily mean that the processor performs poorly, such risk can be avoided if blades were dishwasher-safe.
8. How Many Buttons/Controls Are There?
What's Your Preference — Simplicity Or Sophistication?
Some people want precision while some others prefer simplicity. Likewise, some models offer very basic controls (like on/off and pulse), while some others have touch pad controls that come with a lot of different settings and options.
9. Is It Good At Handling Smaller Quantities?
The reason why people buy food choppers even if they already have food processors is that the bigger capacity processors may tend to fail at smaller quantities. Some models offer ways to circumvent this problem (like an inner bowl that has less capacity and can be used to process smaller batches). Make sure you check how the model performs with those smaller quantities.
10. Does It Leave Any Foods Unprocessed?
One of the biggest problems that can be encountered with food processors is that they may leave some food unprocessed. It can be due to the gap between the radius of the blades and the edges of the bowl.
11. What Safeguards Are There?
And last but not least, different models will have different safety features like lid seals, blade locks, etc. The more safety features the processor has, the better will be the value.
Related Guides And Reviews: