Hamilton Beach 62650 Overview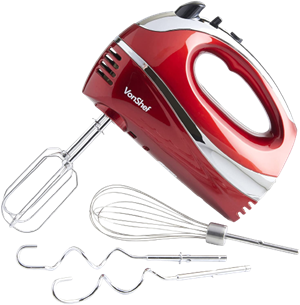 Designed with a focus on versatility and ergonomics, the Hamilton Beach 62650 6-Speed Classic Hand Mixer is a perfect example of a simple kitchen appliance at a very affordable price. This light and easy to use hand mixer offer six speeds and an elegant design at a price that is within the reach of any home chef.
The Hamilton Beach Classic Hand Mixer is powerful, versatile, and ergonomic with its sleek stainless steel finish and easy to remove beaters and whisk attachments. Strong enough to whip up the perfect batch of chocolate chip cookie dough, the Hamilton Beach Classic has 290 watts of mixing power at your fingertips. This compact appliance also stores easily for users with limited kitchen space.
Savings For Classic Hand Mixer [Today Deals]
PROS:
1. Price:
The Hamilton Beach Classic hand mixer comes at such an affordable price that makes it one of the best budget hand mixers on the market. No matter what your kitchen appliance budget limit, this mixer is going to fit the bill. Affordability is not an issue with this small appliance.
2. Brand Name:
The Hamilton Beach brand name is a sure sign of quality when it comes to kitchen appliances. This company has offered high-speed motors since the early 1900s making them a leader in the small appliance market.
3. Compact Size:
With its perfectly compact and portable size, the Hamilton Beach Classic hand mixer is perfect for any sized kitchen. You can store this mixer easily in a drawer or under the cabinet when it's not in use, and it still looks great on the counter top. The powerful motor is compact enough to operate at a cool temperature even during heavy use but light enough that even a small chef will appreciate the weight. The Snap-On cover makes this mixer easier to store than many of its similarly priced counterparts.
4. Power:
Even though the Hamilton Beach Classic hand mixer is small in size, the motor is still quite powerful. At 290 watts, this 6 speed mixer is tough enough to cream your mashed potatoes or make a delicious sticky bread dough. Mixing those cookie doughs and cake batters will not be an issue with this little appliance.
5. Variable Speed Control:
The 6-speed control and Quick burst modes on the Hamilton Beach Classic offer enough flexibility to make it perfect for any type of mixing chore. Quick burst offers a burst of power with the touch of a button. This feature means that your new mixer will not bog down in heavy doughs or overheat.
6. Ease of Cleanup:
Easy to clean be not always the norm when it comes to kitchen appliances. The Hamilton Beach Classic is so simple to clean that it takes on a few minutes to prepare the appliance for storage. Simply wipe the mixer with a damp cloth and you are ready to pursue your next cooking project or put it away for future use.
7. Warranty:
The 1 year warranty offered with the Hamilton Beach Classic is an excellent value for this appliance price range. Many of the inexpensive mixer versions offer only a 30 or 60 day warranty with purchase.
CONS:
1. Hand Mixer:
Although being a hand mixer makes the Hamilton Beach Classic extremely portable, it is not a countertop mixer. Tough mixing projects will definitely place some strain on your arms and wrists using this type of appliance. For people with wrist or hand issues or arthritis, a hand mixer might not be the best purchase. Although the mixer rests easily against a bowl, you do have to hold it continues to maintain power and speed.
2. Lack of Color Choices:
The Hamilton Beach Classic comes in brushed stainless steel with black accent coloring. This means that your bright red kitchen is not going to have a matching hand mixer if you purchase this appliance. The plain coloring style is still a terrific choice because it does blend with many kitchen color schemes.
Buy Hamilton Beach 62650 6-Speed Classic Hand Mixer
Specifications & Features:
Motor Specifications: 290 Watt
Materials: Brushed Stainless Steel and Plastic
Product Size: 10.5 x 8.5 x 7.5 inches
Product Weight: 4.3 Pounds
Capacity: Unlimited Capacity
Speed Adjustment: 6 Speed with Quickburst
Mixing Bowl: Not Included
Available Color Selection: No
Included Equipment: Wire Beaters, Traditional Beaters, Whisk, Snap-On Storage Case
Warranty: 1 Year General
Reviews of Similar Products
BOTTOM LINE:
In the world of hand mixers, the Hamilton Beach 62650 6-Speed Classic Hand Mixer is a front runner. Its combination of charming retro styling and the extremely light frame makes it easy to use and cute at the same time. The look of the Hamilton Beach Classic will take you back to the 1950s with its glimmering brushed stainless steel finish. In a retro kitchen, this mixer fits right in. The classic style and ease of use make the Hamilton Beach Classic an excellent purchase for any home kitchen.
Related Guides And Reviews