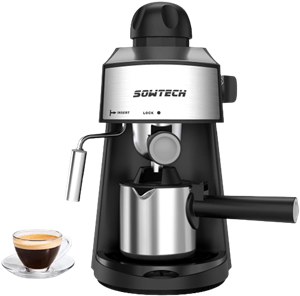 This guide offers you the information for buying the best espresso machine so that you can make the best espresso you possibly can in the comfort of your home. So, let's get into it: Our buying guide on how to buy an espresso machine.
In addition, if the machine is able to prepare cappuccino as well, it will be a plus. Don't forget that part of the end result will also depend on the beans or pods you're going to use; you should use high-quality beans for better results.
Normally, 2-4 cups will be enough for most people (especially if the machine is easy to use and fast at preparing a new batch when there's need).
Buying Guides: 11 Things To Consider Before Buying an Espresso Cappuccino Maker Machine
1. How Does The Espresso Taste? Can It Make Cappuccino In Addition To Espresso?
An espresso machine is about personal pleasure, hence the single most important thing will be the actual taste of the espresso. 
Hint: Try to read up some real buyer reviews to find out how well the espresso tastes and how easy/fast it is to prepare that heavenly espresso with the model you're looking at.
Savings For Espresso Cappuccino [Today Deals]
2. Can It Work With Both Pods And Ground Coffee?
Some people love to grind their coffee themselves, while others like the convenience of pods. If the machine you are looking at serves both groups, it will be a definite plus.
Most models include tamper tools so that the user can tamper the beans on the counter like a barista, which is a feature some people love to have.
3. If There Is A Grinder, Is It Burr Or Blade?
There are two types of grinders used in espresso machines: blade grinders and burr grinders.
Having a burr grinder is preferred by most since it doesn't cause the espresso to have a burnt taste caused by the extra heat and friction caused by blades.
4. Is There A Swivel Frother? How Well Does The Frother Work?
This feature is important for cappuccino and latte. If there is a swivel jet frother (or any other type of frothing aid that functions well), the milk will be just perfect for cappuccino and latte. You can also look at the capacity of the frother (how much milk can it steam? For how many cups?).
5. What's The Size Of The Carafe (Or The Total Capacity Of The Machine)?
The size of the carafe will be important especially for those who have big families or love to entertain guests or neighbors on a frequent basis. Some machines will be able to prepare 2-4 cups at once, while some exceptional ones will be able to do more.
6. How Long Does It Take To Heat Up?
A faster heating espresso machine will mean faster espresso preparation. None likes to wait for their coffee or sit in front of a machine and stare at it for minutes. The faster the machine heats up, the better and more convenient will be for the users.
7. Are The Filters Easy To Clean?
Some machines use single wall filters, some others use double wall filters (or a combination of both). While the filters used will be subject to the personal preference of the users, the one thing they will all want will be easy-to-clean filters. Make sure you know how hard/easy it is to clean the filters.
8. Does It Have A Cup Warmer? Can You Use Big Cups?
The cup warmer feature is another nice one that people would love to have. It will help (to a degree) to acquire better taste, though it's absence will not be a deal breaker.
Another semi-important factor is the distance between the portafilter (or the tap that the coffee comes out from) and the drip tray. If it's too small, users will be able to use only small cups.
9. Are There Temperature And Steam Controls?
Some advanced models have separate temperature and steam controls which allow the users to brew the perfect espresso, just to their liking. Some (if not most) machines will not have this feature.
10. Is The Puck Dry Or Wet?
This is one of the points that interest a lot of people. A dry puck will be much easier to remove and clean than a wet one. Most people also believe that a wet puck affects the taste negatively (this is not so true; as long as the puck is consistent, with no cracks, etc. it won't affect the taste).
11. Are There Programmable Single Shot – Double Shot Options?
Some people prefer weak coffee, while some others want the strongest possible drink. The single/double shot selection option caters to these preferences; if the user wants a weaker coffee, he or she can use the single shot option. If he/she wants a stronger cup, the double shot it will be.
Related Guides And Reviews