KitchenAid Artisan 5-Quart Stand Mixer Overview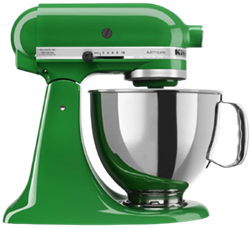 With lots of color choices, the KitchenAid Artisan is simply brilliant. It has practical features, such as a one-piece pouring shield and large chute that make adding ingredients clean and hassle-free. There are ten speeds and interchangeable attachments for working with various types of ingredients. The mixer also includes a sturdy 5-quart stainless steel bowl and various accessories, including a flat beater, wire whip and dough hook.
The wire whip is perfect for air whipped mixtures while the flat beater is ideal for normal and heavy batters. The dough hook is a great tool when working with dough as you won't have to invest your own time hand-kneading it. All the accessories attach to the mixer and can be switched out easily.
Stans Tips Savings For Stand Mixer [Today Deals]
Specifications & Features:
Motor: 325-watts with 10 speeds
5-quart stainless steel bowl
Product Dimensions: 14 x 8-2/3 x 14 inches
Weight: 22 pounds
Warranty: 1-year
One-piece pouring shield
Large chute
Tilt-back head
Ten speeds
Stainless steel mixing bowl
Includes: Flat beater, dough hook, wire whip, 5-quart mixing bowl
PROS:
1. Durable:
 If you try to move the KitchenAid Artisan, you'll see just how heavy this appliance is. Reviewers are amazed at the quality and durability included in the design, and many say that they believe their mixers will far outlast them.
Since the machine is solid, it doesn't jump around on the countertop when mixing, and the components are durable enough to keep up with mixing all ingredients without breaking or snapping. The stainless steel bowl is a nice touch as it won't rust or scratch, and the attachments have a sturdy construction and attach easily to the mixer.
2. Power: 
The KitchenAid Artisan has a 325-watt motor, and this motor can rip through ingredients like you never thought possible. Naturally, you do want to follow the manufacturer's recommendations on the proper speed for the ingredients, but as long as you follow them properly, you won't burn out the motor and can instead enjoy fast, efficient mixing times.
What makes the KitchenAid Artisan even more powerful is its exclusive mixing action that spins the beater clockwise while the shaft spins counterclockwise. With this system, the beater hits the bowl in 67 different positions for ultimate blending.
3. Versatile Accessories: 
At first glance, the KitchenAid Artisan may seem expensive, and while it's certainly an investment, it's one that will pay for itself in the long run. In addition to the rugged and durable nature of the mixer, it also has versatile accessories that are made with the same solid construction. Included with the mixer is the wire whip, flat beater and dough hook, and the company also sells additional accessories.
CONS:
1. Uneven Mixing:
 Some users/reviewers have reported that the beaters don't reach the bottom of the bowl. And since there is a tight fit when the bowl is attached to the mixer, it's difficult to just reach in and give the bowl a quick stir. Fortunately, many reviewers have discovered a trick to fixing this problem. Drop a dime into the bottom of the bowl and use the adjustment screw to adjust the beaters so that they sweep the dime about a half-inch. Not everyone has to make this adjustment, but once it has been made, it will solve the problem of having uneven mixing at the bottom of the bowl.
2. Expensive: 
The KitchenAid Artisan doesn't come cheap and is an investment for many people. Most purchasers agree that the price is worth it when you see the build quality, timeless design and high-performance parts, but the catch is that you can purchase a KitchenAid mixer from the professional line for slightly more.
The KitchenAid Artisan, because it's not a professional model, has plastic parts on the inside, which may pose a problem for long-term durability. It also has some difficulty with bread recipes, and a more powerful, professional-grade machine will be better equipped at these recipes. Nevertheless, this machine is still worthy of your investment, and if this is where your budget tops off, you won't be disappointed with the Artisan.
BOTTOM LINE:
The KitchenAid Artisan 5-Quart Stand Mixer  boasts a timeless design and commercial-grade build, which is why this mixer is a wonderful investment to most users. Those who have purchased this mixer are confident that it will last the long haul and end up paying for itself over time.
The mixer includes the unique mixing system that uses both clockwise and counterclockwise mixing positions and has multiple accessories, such as a large, stainless steel bowl and attachments. What's most important is that the mixer is durable and artistically beautiful, and you certainly won't mind showing it off, in any of its magnificent colors.
Buy KitchenAid Artisan 5-Quart Stand Mixer
Related Guides And Reviews