Omega NC800 HDS 5th Generation Nutrition Center Juicer, Silver: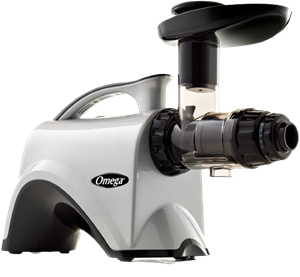 Omega NC800 HDS Overview
With an updated body design & improved yield over the 4th generation J8004/8006, the Omega NC800 HDS continues to be your all-in-one multifunction nutrition center. With the Omega NC800 HDS, you can also make all-natural nut kinds of butter, baby food, soy milk, almond milk and a variety of healthy snacks, No separate attachments needed to purchase.
Compared to the 8006: The size of the feed chute is larger so you spend less time prepping before juicing. The adjustable end cap with 5-settings increases juice extraction efficiency.
StansTips Savings For Nutrition Center Juicer [Today Deals]
Highlights:
Speed: Low rotation speed of 80 RPM
Motor: Gear reduction equivalent of 2 HP motor
Heavy duty GE's ULTEM Auger
Weight (lbs): 20.0
Dimensions: 6.5″ W x 14.5″ D x 15.5″ H
Wattage: 150 Watts
Exclusive "Dual Stage" masticating extraction
5 Adjustable Settings for maximum juice output
Larger oval-shaped feed chute that measures 2″ x 1.5″
Continuous juicing with automatic pulp ejection
Includes 6 nozzles and 1 juicing screen
Built-in handle
Underwriters Laboratories Inc. (UL) Household Approval
Warranty: 15 Years
BOTTOM LINE:
Overall Rating : 4.6 out of 5
This 5th generation Omega model includes all of the same functionality and features as found in the J8004 and J8006 models, with an updated body design, improved yield with more screen area & 5-level adjustment, larger feed chute as well as larger collection cups. Highly recommended though it costs about $60 more than the J8006.
Related Guides And Reviews