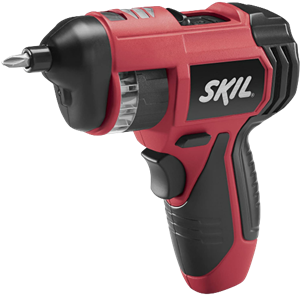 Overview: Have you ever gone up to the attic on a sweltering summer day or climbed up a ladder to fix a few things only to realize that you didn't take the right screwdriver bits with you? That frustration is over with the new SKIL 360 Quick-Select!
The cylinder that holds the bits works just like the revolving cylinder in a hand gun works.
With 12 commonly-used integrated bits, you'll always have the right bit at hand. With the simple twist of the cartridge you can switch between a Phillips, square or torx bit, among others, in a matter of seconds.
Saving For Stand Mixers [Today Deals]
The under-lit LED bit window conveniently displays which bit is selected for use. Even if you haven't used the 360 Quick-Select in a while, it won't let you down because of its lithium ion battery that stays charged for up to 18 months. Use it; toss it in a drawer or toolbox and pick it back up months later and it'll be ready to go.
But when it is time to charge, you'll know, because the battery fuel gauge will change from green to red. And gone are the days of being limited to charging through a standard outlet. A unique feature of the 360 Quick-Select is that it comes with a Micro USB cable that lets you re-charge using a laptop or even phone charger; freeing up space on your standard outlet.
Additional useful features of the 360 Quick-Select include its compact size, making it easy to handle in tight or awkward spots, the forward/reverse indications that show you driving direction and the LED work light which illuminates hard-to-see areas.
There's no denying it, 360 Quick-Select is truly a "bit" faster and smarter than the rest! Package includes: 360 Quick-Select Tool, (12) Screwdriver Bits, (1) Charger, (1) USB Charging Cable.
Buy SKIL 2356-01 360 Quick-Select 4-Volt Max 1.5Ah Lithium-Ion Screwdriver
Not sure how to go about choosing the right cordless drill?
Features/Benefits:
Fully integrated bit management system contains 12 common bits.
USB charging allows charging with computers, cell or car chargers.
4V lithium ion technology holds a charge up to 18 months.
Battery gauge indicator shows when battery needs charging.
Built-in LED work light & forward / reverse indicators.
Specifications:
Amperage: 1.5
Battery: 4-volt Lithium-Ion Battery
Charger: 1 Hour Charger
Speed: 200 RPM
Weight: 27 oz
Warranty: Limited 1 Year
Related Guides And Reviews