Zojirushi BB-CEC20 Overview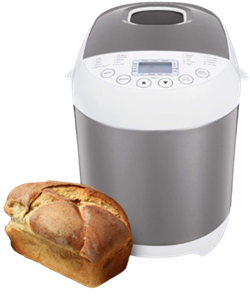 The Zojirushi BB-CEC20 Home Bakery Supreme 2-Pound-Loaf Breadmaker is an excellent machine that delivers exceptional quality and performance. Each loaf of bread comes out just right thanks to the 700-watts of power and dual blades that knead dough perfectly.
Quick and foolproof, the Home Bakery Supreme Breadmaker bakes up to 2-pound loaves of bread, perfect for families and those that like to entertain. The machine has ten preprogrammed settings, three crust shades, and a 13-hour delay start timer that can be controlled from the LCD control panel. With a smart design, a large viewing window, and a nonstick bread pan, you can expect that the Zojirushi is just as enjoyable as it is functional.
Savings For Bakery Supreme Breadmaker [Today Deals]
PROS:
1. Professional-Grade:
If you don't want to deal with mediocre bread machines, step up to the professional-grade Zojirushi bread machine. Zojirushi is a name synonymous with quality small appliances, and the Home Bakery Supreme Breadmaker is no exception. This bread machine boasts 700-watts of power and has dual blades that are especially efficient at kneading dough. With the power behind this bread machine, nothing is out of its realm. Make raisin bread, artisan bread, or buttery dinner rolls – the choice is yours.
2. Ease of Use:
Since the Zojirushi is of such high quality, you don't have to worry about subpar results or touchy settings on this machine. It's very easy to use; simply drop in the ingredients in the order listed and choose the correct setting from the display panel. There are ten preprogrammed settings and three crust shades – light, medium and dark – allowing you to customize your loaves of bread the way you want them. Other thoughtful details include an "on" indicator light, start/reset button and removable, nonstick bread pan for easy cleaning.
3. Loaf Pan:
How many times have you seen freshly made bread that looks not-so-lovely? This is a telltale sign of bread made in a bread machine, as the loaves come out looking lopsided and caved in. The Zojirushi delivers professional results thanks to the smartly designed loaf pan that has a horizontal shape in place of the common vertical shape. The loaf pan also delivers loaves of bread that have soft tops and crusty edges, just the way it should be.
4. Homemade Options:
Not only can you choose from one of the ten programmed settings, but you can also home make your own bread using your own recipe and ingredients. The Zojirushi makes it possible thanks to the Homemade setting that has three memory settings.
The memory settings allow you to change the times for kneading and other tasks so that you can customize your favorite recipes to your liking. Everything is conveniently operated from the LCD display panel, and the machine beeps when it's time to add in your favorite mix-ins like dried fruit or nuts.
5. Nonstick Coating:
Unlike other bread machines that use Teflon on their bread pans, the Zojirushi uses a nonstick coating instead. Teflon has had many negative reports and has been known to flake off in bread recipes, which is why Zojirushi has avoided its use. The nonstick coating on this bread pan is especially effective since it makes cleaning up a breeze and enables the loaves of bread to pop out with little effort.
CONS:
1. Expensive:
Even though the Zojirushi promises great things, it's a machine that you'll have to pay much more. Compared to other bread machines, the Home Bakery Supreme Breadmaker is very expensive; more than double what other machines cost. Yet if you're serious about bread making and you'll be using this machine every day, you'll certainly get your money's worth. However, if you're new to bread making and want to test the waters, this machine will probably exceed what is a reasonable budget for you.
2. Inconsistent Crusts:
Although the results on this bread maker are near flawless, many reviewers have had trouble getting the crust to come out just right. There are three different crust settings to experiment with, but even so, people have found that it's difficult to get the crust to match up. For example, the bottom of the loaf will be dark while the top of the loaf will be light.
When making moist loaves of bread, this can be a problem since the top of the loaf will be mushy. A lot of this is the preference, in addition to taking the time to find the right crust settings for your recipes. x
Buy Zojirushi BB-CEC20 Home Bakery Supreme 2-Pound-Loaf Breadmaker
Specifications & Features:
Zojirushi BB-CEC20 LCD Panel
Dual-blade bread machine makes rectangular-shaped 2-pound loaves
Product Dimensions: 12.8 x 13.6 x 18.9 inches
Colors: Black, white
Ten preprogrammed settings
Three crust shades
LCD control panel
13-hour delay start timer
Large viewing window
Nonstick bread pan
Includes: Measuring spoon, measuring cup, user manual, recipes
BOTTOM LINE:
The Zojirushi BB-CEC20 Home Bakery Supreme 2-Pound-Loaf Breadmaker is a fantastic investment for the modern-day family or bread lovers. This is a professional-grade machine with a professional-grade price tag, so it's best for those who are serious about bread making.
What makes this bread maker so exceptional is the dual blades, 700-watts of power, and sturdy design that has a black and stainless steel exterior. The handy LCD display is easy to read and operate, keeping you aware of how much time is left on the cycle and what settings were chosen for the crust. If you want the best of the best, the Zojirushi is an excellent machine to have.
Related Guides And Reviews
Cuisinart Cbk 100 Programmable Breadmaker Review
Breadmaker Buyers Guide What You Need To Know About Breadmakers
Zojirushi Bb Hac10 Home Bakery Mini Breadmaker Review
Sunbeam 5891 2 Pound Programmable Breadmaker Review