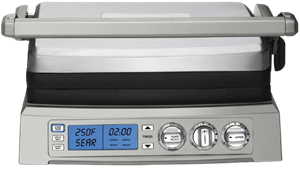 Overview: A contact grill offers the benefit of cooking your food without flipping it since the food is sandwiched together between two heated even plate surfaces. There are several variations of contact grills on the market to suit the needs of both professional chefs and domestic cooks. You can opt for a single or large double grill with different types of plates for cooking on, ranging from cast iron, nonstick cast iron to ceramic plates.
Savings For Contact Grill [Today Deals]
Below are a few helpful tips to help select the best contact grill for your needs:
1. Cooking Options & Size
How Many Cooking Options Does the Grill Have?
Some contact grill models can be used for multiple purposes including as a contact grill, panini press, full grill, full griddle and half grill/half griddle. The more cooking options the grill provides, the better will be the value.
How large is the Cooking Surface?
The cooking space determines the amount of food you can prepare at one time. While a large cooking surface will not be a requirement for singles or people looking to cook/grill for two, anyone with kids or a big family will appreciate a larger surface. Cooking areas of contact grills generally range in size from 36 square inches for small models to about 245 square inches for the largest grills.
2. Performance
Does The Grill Heat Up Quickly?
People use contact grills for the convenience, and the speed with which the grill heats up and becomes ready to cook/press will be an important factor.
Do The Bottom And Top Plates Heat Up Evenly?
You will also want to know if the bottom and top plates heat evenly. If they don't, the food/panini will not be cooked/pressed in the right manner and you will have to manually flip the food to ensure even cooking.
How Detailed Are The Controls?
Some contact grill models have basic controls like an on/off switch. More sophisticated models, on the other hand, have a lot of controls including grill/griddle selector and separate cooking options for each selection.
Models with basic controls offer simplicity and ease of use (and cheaper to buy) while those that are fitted with sophisticated controls (and you pay more) offer the ability to cook/grill everything exactly the way the you want.
3. Maintenance
Are The Plates Easy To Remove And Clean?
Contact grills do not require too much maintenance, but the users will have to remove and clean the plates every once in a while. While the frequency will depend on the usage, the ease of removing and cleaning the plates will be an important criterion for some consumers.
4. Other Considerations
Does The Top Plate Require Pressing?
Most contact grills have weighted top plates that do not require pressing. However, this feature can be lacking in some models, and the user may have to press the plate down to ensure proper grilling.
Is The Hinged Floating Cover Good Enough For Thick Food?
Most modern models have hinged covers that allow you to cook/grill/press thick foods. If the model you are looking at doesn't have a decent hinged floating cover, it won't be able to cook thick food or press thick sandwiches. Better look for another model that can do the job.
Is There A Drip Tray? If Yes, Is It Functional And Easy To Remove And Clean?
A drip tray is a feature that can be found in some higher quality models and is a handy feature to have. It collects the oil and any other fluids dripping from the food and minimizes the need to clean the plates. If there is a drip tray, you should also check whether or not it's easy to remove and clean.
Recommended Buy
Best Overall Contact Grill: Cuisinart GR-4N 5-in-1 Griddler
Best Budget Contact Grill: Cuisinart GR-11 Griddler 3-in-1 Grill and Panini Press
Best Value Electric Grill for Use Indoors or Outside: George Foreman GGR50 Indoor/Outdoor Grill
Related Guides And Reviews