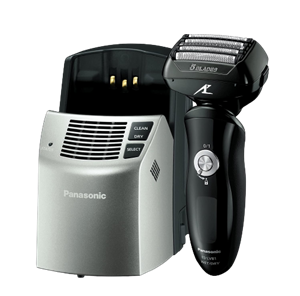 Overview: Need to shave but dread the idea of having to do it? Then it's time for a new shaver! Shaving doesn't have to be something you dread when you have the right shaving equipment. The right equipment starts with a good shaver.
You deserve one that will give you a quick, comfortable, long lasting shave. That's exactly what the Panasonic ES-LV81-K will give you.

This shaver boasts an effective five-blade capability that puts competitors to shame. Having a five-blade system means that you'll spend less time shaving than you normally would. With this shaver, a close shave is guaranteed. One of the problems that many men have to deal with when it comes to shaving is the shavers that cut the top of the hair but are ineffective at getting to the root.
Savings For Electric Wet Dry Shaver [Today Deals]
This causes that stubble look that can also irritate sensitive skin. You won't have that problem with this shaver. It has nanotech blades combined with an agile angle of thirty degrees. This is what allows the shaver to get to the root of the hair. You need both blades and angle for the right kind of shave. The shaver has a design with the head of it that lets it get even the most stubborn jawline hair.
The multiflex pivoting head will produce a great shave with you only contributing a little hand pressure. The power of a shaver motor is what will determine whether or not you'll feel that painful pull against your skin as you shave.
The faster that the motor is, the less of that pull you'll have. This model offers a 14,000 rev motor and it keeps that power up throughout the shave. There are three parts to this shaver that make it a standout unit to have.
Using Method
First, the shaver has Lift-Tech Foil. With this part of the shaver, you won't have to go back over areas repeatedly.
This technology is what lets the shaver get the scalp itchy hairs that have a tendency to lie flat against your skin.
Without this feature, those hairs are really difficult to get to. The second part of this shaver that stands out is the Finishing Foil feature.
With this, you can shave even the toughest beards that take down other shavers.
The third part of this shaver is that it has the Slit Foil.
This means that even if you have a long beard, you can still get the close shave you want without bogging down the shaver and without experiencing painful pulling.
Fitting to the contours of your skin isn't a problem with this shaver. Thanks to the multiflex pivoting head, the shaver glides along the skin. Plus, the head of it can angle front or back at 25 degrees.
Innovative wet or dry shaving makes this shaver a must have. If you're in a hurry, you can opt for a quick dry shave and get out the door. But you can also use the shaver wet with shaving cream. Either way, you end up with a great shave.
Highlights:
Made In Japn.
5-Blade Ultra-Thin Vibrating Foil Cutting System with 30 Degree "Nano Blades" for a clean shaving experience.
14,000 CPM Linear Motor Drive with a Multi- Flex Pivoting Head with Stainless Steel Foil and Blade, Built-in Pop-up Trimmer.
10-Stage LCD readout, Lock Button, Automatic Cleaniner & Charging System included, Sonic Vibration Cleaning Mode for quick clean-up.
Use Wet with Shaving Gel or Dry.
100% Waterproof.
Includes Travel pouch and AC Adapter.
Related Guides And Reviews