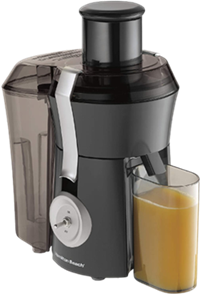 Overview: Hamilton Beach Centrifugal Juice Extractors are very popular among cost-conscious consumers as they are mostly more affordable than leading competitors. The 67650A Big Mouth Pro Juice Extractor is perfect for people with a busy lifestyle, whipping up fresh fruit and vegetable juices in mere minutes.
Equipped with a powerful 1.1 HP motor, an extra-wide 3-inch feed chute, and a stainless steel cutter/strainer, it quickly processes whole fruits and vegetables with no pre-cutting to produce juice. Best of all, it's easy to assemble and clean.
Saving For Pro Juice Extractor [Today Deals]
To be fair, the high operating noise level shouldn't be considered a "con" since this is inherent in every centrifugal juicer.
Highlights
Overall Rating of Hamilton Beach 67650A Big Mouth Pro : 3.8 out of 5
HP (800 Watts) motor has sufficient power to extract juice from the toughest produce.
3-inch feed chute fits whole fruits and vegetables, eliminating extra prep time.
Stainless steel cutter/strainer.
High juice spout funnels juice directly into a variety of glass and container sizes.
Convenient 20-oz. juice container doubles as a serving pitcher.
Extra-large pulp bin saves time by allowing continuous juicing — no need to stop midway through extracting to empty the pulp bin.
Die-cast metal locking clips fasten securely for safe operation.
Designed for easy assembly, handling, operating, and storage.
Removable plastic parts are dishwasher safe (except for the motor base).
Easy-to-use cleaning brush with micro-soft bristles for strainer basket cleaning.
Commercial-grade ON/OFF toggle switch.
Dimensions (inches): 14.41 H x 7.8 W x 11.46 D
One year warranty.
BOTTOM LINE:
Hamilton Beach 67650A Big Mouth Pro is more than just a decent centrifugal juicer if you take the low selling price into consideration. However, this is not the right juicer to use for juicing soft fruits or leafy greens.
Related Guides And Reviews