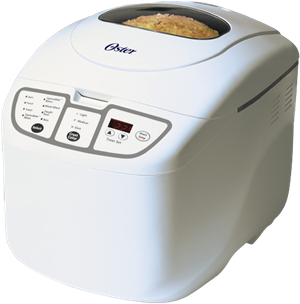 Overview: The Oster 5838 ExpressBake Bread Maker offers plenty of options that rival the more expensive bread makers to become extremely popular these days.
Oster's a trusted name with terrific service policies make one of the more reliable bread makers for the money. Their bread machines are gaining popularity in today's market and the ExpressBake makes baking bread fun and simple.
Specifications & Features of Oster 5838 express Bake Bread Maker
Bread machine bakes up to a 2-pound horizontal loaf in under an hour
Product Size: 11-1/2 by 14-3/4 by 11 inches
Product Weight: 13 pounds
Materials: Smooth White Enamel with Grey Display
User-friendly control panel
13-hour delay bake
1-hour keep warm
8 settings for making a variety of breads, dough, and jams
Nonstick aluminum bread pan and kneading paddle included
Warranty: 1 Year Limited
Savings For Oster Bread Maker [Today Deals]
PROS:
1. Oster Style: The best thing about the Oster 5838 ExpressBake Bread Maker is the fantastic Oster reputation. This company offers both baking expertise and superior design in every product that they market to consumers.
The Oster ExpressBake is recognized by baking aficionados as one of the highest quality bread machines in this price range. With hundreds of reviews on file, the Oster ExpressBake continually receives 4 out of 5 stars from reviewers. This is quite an accomplishment for a reasonably priced bread making machine.
2. Simplicity: From its classic styling to the easy-set programs, the Oster ExpressBake is just a simple bread making machine. Although it is not custom programmable, the bread maker offers 8 simple settings for baking a variety of bread loaves with ease. Even the newest of bread bakers will be surprised with how many functions come with that small price tag.
The Oster ExpressBake offers a 13 hour start of cycle delay, making it an excellent choice for the busy working parent. You can set the timer and enjoy delicious fresh baked bread any time that you choose. A touch of a button allows you to alter the color of your bread crust and the type of bread that you are baking. Simplicity makes the Oster ExpressBake fun to use, even on a daily basis.
3. Ease of Cleanup: The Oster ExpressBake offers a non-stick aluminum bread pan that makes cleanup extremely simple. You can remove the pan and place it right into the dishwasher to save time. The paddle is also easy to clean, even with the stickiest of bread doughs. The exterior of the Oster ExpressBake can be wiped down with a damp cloth, and its small size makes it simple to store under the counter. With very little time spent cleaning the machine, you can spend more time enjoying the bread.
4. Varied Loaf Sizes: As with many of the newer bread machines, the Oster ExpressBake offers you a choice of loaf sizes. From 1 to 2 pounds, the size selection process is accomplished with just the touch of a button. The horizontal baking surface creates a variety of specialty bread in less than 1 hour of total preparation and baking time. This is definitely a speedy baking process. The Oster ExpressBake offers speed without sacrificing quality.
5. Recipe Booklet and Doughs: The Oster ExpressBake comes with its own selection of bread recipes that offer options from crusty white bread to honey wheat loaves. These spectacular recipes are custom designed to work well with the ExpressBake's timers. There are also plenty of boxed dough mixes that are available separately. These boxed doughs make delicious loaves without the preparation time of gathering your own ingredients.
CONS:
1. Lack of Custom Programming: The Oster ExpressBake does not offer any customizable programming features. This means that the presets that are offered on the bread maker are the only options that you have for each baking cycle. Many bread bakers avoid the issue by using the Oster ExpressBake to mix all ingredients and knead the dough while they finish the loaf in their own oven.
The lack of customizable programming is a sore point with many bread machine users. The Oster ExpressBake does not offer a chime or dispenser for the addition of nuts or fruit to your bread dough. You are still able to add mix-ins to the dough, but you will need to time those additions carefully.
2. Color: The Oster ExpressBake comes in a white colored finish. There is no option for additional colors offered by Oster for this model of bread maker. If you must have a red bread maker, the Oster ExpressBake is not going to fit your needs.
It would be nice to have the option of choosing another color for the bread machine, especially if it is going to spend a lot of time on the countertop. Because the ExpressBake is small enough to fit under the counter, you can always put it away when you are tired of looking at it.
BOTTOM LINE:
For the price (about $60, subjects to change), the Oster 5838 Express Bake Bread maker is a terrific buy, especially for your first bread maker. If your heart is set on having a bread machine that is fully customizable, then the Oster express Bake is not for you.
This bread maker is simple to use and comes at a very reasonable price. It offers most of the flexibility that you look for in a bread maker without complicated instructions. The Oster express Bake is fast, simple, and reliable, making it a top pick in the world of bread making machines.
Related Guides And Reviews