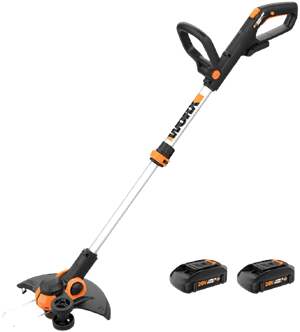 Whenever a weed pops up, you don't want to have to pull out your heavy lawn mower just to trim it down. The best string trimmer makes a much simpler solution. It's far more portable, and you can whip it out for any number of small jobs without breaking a sweat.
Some string trimmers can also be used as edgers; when you've finished mowing your lawn, a string trimmer can conveniently help to finish your task by clearing up areas where mowers are unable to reach, such as in and around shrubs, corners, walkways, fences and more.
This can make your garden pathways, your driveway and other paths look much neater, giving your home a more welcoming environment.
A string trimmer, as the name implies, is a tool which uses a flexible monofilament line (instead of a metal blade) for cutting grass and weeds. It consists of a cutting head at the end of a long shaft with a handle, and sometimes a shoulder strap. String trimmers are also known as weed whackers, weed eaters, weed cutters, edge trimmers, line trimmers, and weed whips, etc.
What is the best string trimmer to buy?
It doesn't have to be dizzying. You'll be in a better position to decide once you've done some research before you buy. To help you find the string trimmer that best suits your needs without overspending for capabilities which you may never use (what's the point of buying a top of the line commercial-grade string trimmer for $400 when you only use it once a month?), here's a list of factors/considerations/product features to carefully consider:
StansTips Savings For String Trimmers [Deals]
String Trimmer Types
String trimmers are either powered by gas or electricity. One of the most important decisions you'll have to make when buying a string trimmer is whether you want a gas or electric model.
Gas string trimmers are cordless, tend to be more powerful, and are great for large areas to undertake heavy-duty jobs, when you need to be able to cut through a lot of tough material. Trimmers with 2-stroke engines require mixture of gas and oil to operate, while some models with 4-stroke engines runs more smoothly, easier to start up and don't require any gas/oil mixtures. Gas powered trimmers feature pull starters–you may have difficulties to start the engine, sometimes. They operate at higher noise level and weigh much more than electric models. Gas trimmers also require periodic maintenance.
Gas-powered string trimmers – Estimated price range: $100 – $500.
Electric models can be either corded or cordless and are ideal for simple or smaller garden and yard jobs. Powered by rechargeable batteries (Lithium-ion or NiCad), Cordless models offer easy starts, complete mobility and quiet operation, and lighter than gas models. Corded electric units are easy to start, operate quietly and weigh much lesser than cordless models. Both corded and cordless string trimmers require very little maintenance.
Corded electric string trimmers – Estimated price range: $30 – $80.
Cordless string trimmers – Estimated price range: $60 – $200.
Which type you may choose depends largely on the size of your lawn where your power outlets are located and the frequency you trim.
Weight is also an important consideration as users bear the full weight burden of the trimmer. A lightweight model tends to reduce fatigue while working around the lawn. Some models come with shoulder straps to help reduce burden from users' arms.
TRIMMER TYPE
PROS
CONS
Gas
Complete mobility, so can cover a large area.
Ideal for heavy duty cutting.
Can use lines with larger diameters.
Accepts a wider range of attachments.
Dual trimmer heads allow for faster cut.
Ample power.
Noisy operation.
2-stroke engines require mixture of gas and oil.
Higher maintenance cost due to periodic engine servicing.
Higher operating expenses due to cost of gas and oil.
Uses pull starters.
Heavier than electric models.
Not eco-friendly.
Corded Electric
Unlimited runtime and consistent power.
Quiet operation.
Easy startup.
Lighter weight.
Little or no maintenance needed.
More economical to operate than Gas.
Eco-friendly–no gas, oil, or fumes.
Poor mobility – Coverage limited by length of power cord.
Having to deal with messy power cord.
Cordless Electric
Complete freedom from gas and cords.
Quiet operation.
Lighter weight than Gas.
Low maintenance.
Eco-friendly–no gas, oil, or fumes.
Usage is limited by battery runtime.
Have to recharge battery after every use.
Heavier than Corded.
Replacement battery is expensive.
Size of Your Yard/Lawn
One of the most important factors in making a decision is the size of your lawn. Larger lawn to trim means more time will be required; choose a string trimmer that has ample runtime to handle all of your cutting jobs at once. Cordless models have the most limitation in this regard; additional batteries will be needed to extend the runtime, which can be a fairly expensive expense.
Choosing a unit that matches your lawn size will ensure you get maximum performance from your string trimmer. See chart below:
| | |
| --- | --- |
| STRING TRIMMER TYPE | RECOMMENDED LAWN SIZE |
| Corded Electric | Up to 1/3 Acre (Up to 14,505 sq. ft.) |
| Cordless 18V Lithium-Ion | Up to 1/3 Acre (Up to 14,505 sq. ft.) |
| Cordless 24V Lithium-Ion | Up to 2/3 Acre (Up to 29,054 sq. ft.) |
| Cordless 36V/40V MAX Lithium-Ion | Up to 1 Acre (Up to 43,560 sq. ft.) |
| Gas | Over 1 Acre (Over 43,560 sq. ft.) |
Straight Shank Vs Curved Shank
There are two different styles of shank or shaft – Straight, and Curved.
String trimmers with straight shanks tend to offer a better weight balance and their longer shafts provide additional reach, such as underneath fences, hedges and bushes. And the extra shaft length also offers less bending, and tends to put a safer distance between the user and the debris that might ricochet around the cut area. Most professional landscapers prefer straight-shaft trimmers as they generally accept more optional attachments (purchased separately) to handle multiple tasks such as edging, hedge trimming, cultivating, blowing and more.
String trimmers with curved shanks use a flexible-cable drive shaft to provide power to the head. Some users (mainly homeowners) find them to be more comfortable and easier to maneuver when trimming up close. Curved-shaft trimmers are lighter and cheaper to buy than straight-shaft trimmers.
IMHO, there is hardly any significant difference in performance between the two types (straight or curved). Which one to choose is very much a personal preference.
Cutting Swath
Like lawn mowers, string trimmers come in several cutting swaths (a.k.a. cutting widths, or cutting paths) to suit different types of jobs. A general guide as follows:
7″ – 13″ for small & light use
14″ – 16″ for moderate use
17″ and larger for heavy-duty use
Line Feeds
There are two types of trimmer line feeds – Automatic feed and Bump feed. Most newer trimmer models have automatic feed spool system.
Automatic feed, as the name implies, the trimmer head automatically advances the trim line. Whereas bump feed requires you to tap the trimmer head on the ground to advance the string.
Which system to choose is a matter of personal preference, as long as the machine feeds the line smoothly for continuous work without bumping. Look for a string trimmer with a spool that new line can be loaded with ease.
Safety Features
Like lawn mowers, string trimmers are dangerous power tools to operate. The protective shield or guard of a good quality string trimmer should be designed in a way to provide ample protection from flying debris. Even with the best shield, it's always advisable to wear a safety goggle, protective shoes, long sleeves and pants to protect from being injured by flying debris.
Is there a trigger lock? The best string trimmer should have this safety feature to prevent the trim head from accidentally started when not in use. The trigger lock switch should be in a convenient location that's easy to use.
Cost of Ownership
Paying for the purchase price isn't the whole story. There are other costs to consider:
All types of string trimmers require replacement trim lines and/or trimmer heads occasionally.
Gas-powered trimmers requires periodic engine servicing (at least once or twice a year), which can cost quite a bit of money. You also need fuel (gas and oil) to operate the machine.
Corded electric string trimmers require minimal maintenance, but a heavy-duty extension cord (costs $45 to $65) should be replaced every couple of years.
Cordless trimmers will need a replacement battery every few years (3 to 4 years depending on your usage), which can cost $50 to $100, or as much as 65% of the original string trimmer purchase price.
Other Considerations
Adjustable telescoping shaft allows you to change the working height of the trimmer fit the users height.
Edger capability lets you easily converts from trimmer to edger with a quick turn of the shaft.
Attachment capability offers added versatility to accept attachments to handle multiple tasks.
Fast-loading spools to insert replacement line and wind it without removing the spool.
Variable speed controls allows users to vary the power for different cutting conditions. This feature is especially useful for cordless models, which lets you choose between maximum power or extended battery runtime.
Recommended String Trimmers
Best Corded Electric String Trimmer:
GreenWorks 21142 10 Amp Corded 18″ Top Mount Trimmer
Great for homeowners; light to moderate use.
10 Amp motor provides ample power.
18″ cutting swath/path gets job done quicker.
Straight shaft.
.080 dual line bump-feed head makes advancing the cutting line simple and easy.
Attachment capable design can convert into a brush cutter, cultivator or blower with extra attachments, and is compatible with attachments from other brands such as Ryobi, TrimmerPlus, Yardworks and more.
Lock off safety switch.
Cushion and over-mold grip and handle for operator comfort with auxiliary handle for more control when trimming.
Weighs 9.9 pounds.
CSA certified.
Best Cordless String Trimmer:
Black & Decker LST136W 40V Max Lithium String Trimmer
Great for homeowners; small & light duty jobs.
13-inch cutting swath.
Straight shaft.
0.065 line diameter.
Powered by Black & Decker 40-volt MAX lithium-ion battery system.
Battery runtime ranges from 20 to 40 minutes.
Battery recharge time is approx. 1 hour.
Power Command controls speed for maximum run-time or maximum power.
Automatic Feed Spool ensures continuous work without bumping.
Easy conversion from trimmer to edger – Trimmer head can be rotated 180-degrees for quick switches between cutting and edging tasks.
Tool free handle and height adjustment.
Weighs 7.8 pounds.
Best Gas-Powered String Trimmer:
Husqvarna 323L 24.5cc E-Tech 2-Cycle Gas Powered Straight Shaft String Trimmer With Smart Start
For the professionals; great for heavy-duty jobs.
Straight-shafted gas-powered string trimmer, 1.2 HP power output.
E-Tech engine combines reduced exhaust emissions with a superior power/weight ratio.
Fuel tank volume: 16.91 fluid ounces.
Fuel consumption: 1.21 lbs/hr.
Sound power level (LWA): 106 dB(A).
Smart Start – Engine and starter have been designed so the machine starts quickly with minimum effort.
Easy loading T35 bump trimmer head that feeds automatically when pushed into the ground–no need to stop working when you need more line.
Stop switch automatically resets to the ON position for easier starting.
Tube length: 58.39 inches.
Weight: 9 pounds (excluding cutting equipment).
Related Guides And Reviews