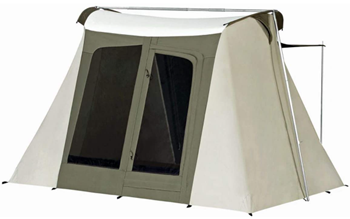 Overview: The Flex-Bow 8P Tent is made of a superior, marine-grade, 100-percent cotton duck Hydra-Shield canvas. The custom-woven, treated canvas is ideal for tents, as the double-fill design is strong and durable, while the silicone, dry-finish treatment is watertight, breathable, durable, and also resists mold and mildew.
Sale
As a result, campers will stay comfortable and dry even in a downpour. Unlike synthetic fabrics or canvas with a paraffin- or oil-based treatment, Kodiak's canvas allows water vapor to escape, minimizing condensation, humidity, and mugginess. Plus, you'll rarely (if ever) have to retreat Kodiak canvas.
Live Savings For Kodiak Canvas Tents [Deals]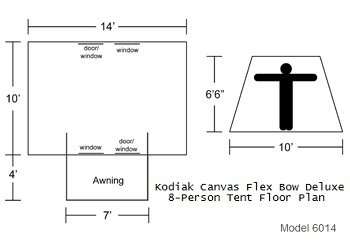 The frame is made up of 1-inch galvanized steel tubing and 3/8-inch Flex-Bow spring steel rods keeping the tent taut at all times. The tent floor is made of 16-oz vinyl polyester reinforced, seamless.
Note: This tent is designed for all-season use, but Kodiak Canvas does not recommend use for extreme winter mountaineering or heavy snow accumulations.
Good Ventilation:
Campers won't feel claustrophobic inside the Flex-Bow 8P tent, thanks to the tent's spacious 6-foot 6-inch ceiling height, two large D-shaped doors (front and back), and four large windows, all covered with no-see-um mesh. To further improve ventilation, the tent includes two funnel-flow vents that help improve air flow and temperature management.
Ease Of Setup:
Although not freestanding, the Flex-Bow can be set up easily with one person (see video). Since it is not freestanding you'll have to spend a little more time to stake it down. You'll also need good soil because this tent is a pain to set up in soft or sandy soil. You can Check out Amazon customers share their real tent setup experience.
Other Goodies:
A large 84-by-78-inch awning; a customizable gear loft and organizer pockets; and a handy strap-and-cinch storage bag.
Optional Accessories:
Ground Tarp
Notes:
The model number for Kodiak Canvas Flex-Bow Deluxe 8-Person Canvas Tent is 6014.
The Flex-Bow also comes in four and six-person sizes:
Kodiak Canvas Flex-Bow Deluxe 4-Person Canvas Tent, model number 6098
Kodiak Canvas Flex-Bow Deluxe 6-Person Canvas Tent model number 6010
Related Guides And Reviews