KitchenAid Professional 600 Overview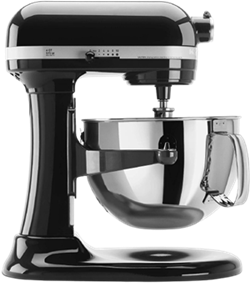 The Professional 600 Series has a powerful motor that is crafted for commercial-style performance, the direct drive, all-steel gear transmission delivers unyielding power for professional results. No wonder this appliance is a top pick by professional chefs and food lovers alike…
Whether in your home kitchen or in your restaurant, the KitchenAid Professional 600 Series is tough enough to withstand those sticky bread doughs yet gentle enough for your delicate recipes.
Savings For Quart Stand Mixer [Today Deals]
With plenty of versatility and a powerful 575-watt motor, this mixer has the power to create and conquer anything that you might imagine on your kitchen countertop.
Specifications & Features:
Motor: 575 Watt
6-quart stainless-steel mixing bowl
Speed Adjustment: 10 Speed
Materials: Stainless Steel
Direct-drive transmission
Electronic speed sensor
Auto shut-off
Soft Start minimizes splatter
Available Color Selection: Yes
Dimensions H:5″, W:11.3″, D:14.6″
Weight: 9 pounds
Capacity: 14 Cups
Mixing Bowl Materials: Stainless Steel
Includes wire whip, burnished flat beater, spiral dough hook, and pouring shield
Warranty: 1 Year Hassle Free
Reviews of Similar Products
PROS:
1. KitchenAid Warranty:
The first thing that comes to mind when you mention the advantages of the KitchenAid Professional 600 Series is the KitchenAid name. Known for outstanding quality and reliability, the KitchenAid name is a trusted addition to homes and restaurants around the world. With this name comes the KitchenAid "no hassles" warranty.
This allows a 1-year replacement of your new appliance with shipment directly to your door. KitchenAid even arranges for the return of the broken appliance if you have any difficulties during this first year.
2. Powerful Motor:
The powerful 575 watt motor with its steel construction makes the KitchenAid Professional 600 Series a force to be reckoned with inside your kitchen. Powering through bread and cookie doughs will not be a problem with this tough piece of equipment.
The free-standing mixer offers stability and strength in a package that is small enough for your kitchen countertop. The metal design extends past the exterior portions of the mixer and into the transmission which is a direct-drive model with steel gears. The combination of the KitchenAid motor and direct-drive transmission makes this machine an extremely smooth operator.
3. Bowl Lift:
The KitchenAid Professional 600 Series lifts its mixing bowl into the perfect position for each and every use. Smooth start operation keeps your kitchen clean, and it allows you to begin each mixing cycle without flinging dough into the next room. Even delicate creams and sauces are easy to create with this professional mixer.
4. Accessories:
Many countertop mixers offer a lower initial price tag but force you to spend more money buying optional equipment. The KitchenAid Professional comes with the 4 most important accessories that you require in this type of appliance. The dough hook is tough enough to make those artisan bread, and the wire whip and flat beaters will keep you cooking.
Interchangeable accessories and easy replacement are offered on the KitchenAid website. The mixer includes an exceptionally useful pouring shield to keep those doughy messes off of your countertop and kitchen floor.
5. Colors:
Although a specific color option might not be important in the kitchen of a major restaurant, many home users enjoy the ability to color coordinate their kitchen appliances. With its gleaming steel construction, this mixer is already very easy on the eyes. Having the option to choose a color like copper pearl or empire red makes this appliance even more fun to have in the house. Whether you want your mixer to stand out or to blend in, the KitchenAid Professional 600 Series has a color for you.
CONS:
1. Weight:
At 9 pounds, the KitchenAid Professional 600 Series mixer is heavy enough to remain stable during the mixing process. This means that the appliance is not quite as simple to remove from the countertop as its smaller competitors. If you plan to store your mixer on the countertop, the weight issue will not be a problem. The mixer does take up some space on the counter that might limit its usefulness in a smaller kitchen area.
Price:
Pushing the $500 mark makes the KitchenAid Professional 600 Series mixer one of the pricier models on the market. Because of its unique design features and excellent reputation, the KitchenAid Professional is truly a professional piece of equipment. Although it might be on the pricey side of the spectrum, the features are worth the added cost.
Buy KitchenAid Professional 600 Series
BOTTOM LINE:
The KitchenAid Professional 600 Series is a sound investment for the busy kitchen. Whether you are making 8 pounds of mashed potatoes or 12 loaves of bread, this appliance has the ability to start and finish each job in an extremely professional manner.
You may find countertop mixers for a lower price, but you will not find a mixer with better value. Fun color combinations and a snappy look make this mixer one of the prettiest on the market. The KitchenAid accomplishes everything that it promises, and it looks great doing it.
Reviews of Similar Products
Kitchenaid Artisan 5 Quart Stand Mixer Review
Sunbeam Fpsbhs030 250 Watt 5 Speed Hand And Stand Mixer Combo
Cuisinart Hm 70 Power Advantage 7 Speed Hand Mixer Review