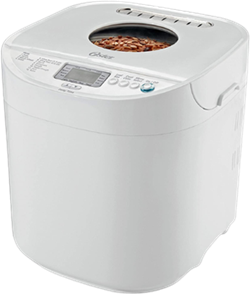 Overview: Want freshly baked bread for the whole family in just under an hour? It's now possible thanks to the Oster 2-Pound Express bake Bread maker. It's no surprise why this bread machine has received rave reviews and remains a top pick for families on a budget.
The Oster Oster CKSTBRTW20 Breadmaker has nine bread settings, three crust shades and a 13-hour delay bake setting. It can make large loaves of bread – up to 2-pounds – in as little as one hour thanks to the exclusive Expressbake setting. With a large LCD display and easy press button control, you'll find that baking fresh bread and dough is not just easy – it's fun.
Saving For Expressbake Breadmaker [Today Deals]
Specifications & Features:
Bakes up to a 2-pound loaf capacity, ideal for larger families
Expressbake setting bakes bread in under an hour
Model number: CKSTBRTW20
Product Dimensions: 13.8 x 13 x 14.1 inchesa
Product Weight: 8 pounds
9 bread settings and 3 crust settings for variety of breads, dough and jams
13-hour programmable baking timer allows for fresh breads anytime
Large LCD display – easily indicates each stage of the bread making process
Includes: Instructional manual & over 50 recipes included
PROS:
1. Express Bake Cycle:
Bread machines are great small appliances to have, but they can also take a long time to cook fresh loaves of bread, which isn't helpful if you need bread quickly. Fortunately, the Oster Expressbake Breadmaker oversteps this hurdle and offers the Expressbake setting that cooks bread in as little as one hour. All you have to do is run the Express Bake cycle at 58 minutes, and you can have fresh pizza dough for dinner or warm raisin bread for breakfast. Of course, if you want to plan in advance, the Oster includes a handy 13-hour delay bake setting.
2. Affordable Price: 
The Oster Expressbake Breadmaker has a reasonable price point, making it an affordable purchase for families on a budget. In fact, this machine is geared toward families since it can make up to 2-pound loaves of bread in as little as one hour.
Not only is the price tag on the Oster just right, but you'll save money in the long run from not having to buy expensive store-bought bread that doesn't come close to the quality and nutrition of a fresh baked loaf. If you're on a budget and need something smart and practical to zest up your meals, this Oster is worth looking at.
3. Family-Friendly: 
This bread machine can make up to 2-pound loaves, which is the perfect size for a family. It's also very simple to use, so you won't find yourself frustrated with making recipes that don't come outright.
There are many options to make your pieces of bread just the way you want them, such as by adding in dried fruits, chocolate morsels, or nuts. In addition to making freshly baked pieces of bread, you can also prepare fresh jams, jellies and dough. Better yet, if you or someone in the family has an allergy to gluten, you can tweak the recipes to meet the needs of your family's diet.
4. Modern Design: 
Maybe the appearance of the Oster isn't exactly contemporary, but that doesn't mean the Oster lacks smart design features. There is a large viewing window for checking the progress of bread, a removable lid for easy cleaning and a large, nonstick aluminum pan.
The exterior of the bread maker is cool to the touch, preventing accidental burns. There is also a keep-warm feature for keeping your freshly made creations at the right temperature for up to 60 minutes. Helpful beeping signals also let you know when it's time to add mix-ins.
CONS:
1. Large and Bulky:
Since this bread maker is capable of making large loaves of bread, you can expect that it has a large exterior. The design of the Oster isn't a favorite of reviewers, as it's large, boxy and white in color. Many people prefer smaller appliances that have black and stainless steel exteriors, so if you have a kitchen that possesses this look, the Oster will look out of place on your countertop.
It also has a tendency to bounce around on the countertop when it's kneading the dough, which some people have found a bit bothersome. Overall, these small design quirks are a small price to pay for the efficiency and cost of this practical bread machine.
2. Excess Dough: 
Some users have reported that there is excess dough that appears on the bottom of the loaves. Sometimes the dough sticks to the bread, other times it sticks to the bread pan. This isn't a big concern, except for the fact that the blades may not be working as well as they should. Some reviewers believe that if this machine had a second blade, it would be perfect. Also, the blades can be difficult to clean off. A good soak in warm, soapy water helps this issue.
BOTTOM LINE:
With an affordable price tag, the Oster CKSTBRTW20 Expressbake Breadmaker outperforms bread makers that are double the price. What sets this bread machine in a class of its own is the Expressbake setting that can whip up loaves of bread in one hour, much faster than the average four hours that other bread machines require.
With a bit of patience and practice, you can master this machine rather quickly and use it for all three meals of the day. It also has customizable options to make your bread come out perfect, including nine cook settings and three crust shades.
Related Guides And Reviews