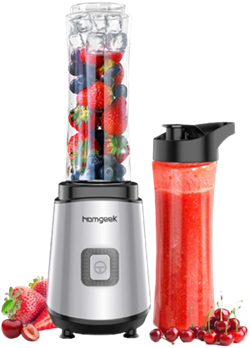 Overview: An immersion blender, sometimes called a stick blender, wand blender and a hand blender is an appliance used for blending food ingredients or puree food in the container in which they are being prepared. Are you looking for a countertop blender rather than a hand blender? See our Countertop Blender Buying Guide.
Here's A List of Questions You Need to Ask and Get the Answers to before Deciding Which Immersion Blender Model to Buy:
1. How Powerful Is The Motor?
Immersion blender models on the market come with a wide range of motor power; the rated power levels range from 100-150 Watts to 500+ Watts.
A power output of around 200 Watts will be enough for most tasks, provided, of course, that the blender functions properly. With that said, however, you should also know that the more powerful models will be much better in heavy duty usage like crushing ice.
Saving For Immersion Blender [Today Deals]
2. Are There Multi-Speed Controls?
Some advanced models come with 4-6 speed controls which offer a high level of flexibility and precision. However, most low priced models will have the basic low/high speed settings (which is sufficient for most uses in general).
Models with only 2 settings offer simplicity and ease of use. In fact most people don't really need multiple speeds (4 and above) in immersion blenders as there are countertop blenders, food processors and choppers for that.
3. Is It Good At Blending Frozen Yoghurt, Ice, Etc.?
Only the most powerful hand blenders will be able to successfully crush ice or blend/mix frozen yoghurt and such. If the blender has less than 300W of power, you shouldn't expect to crush ice with such a model. There are more powerful (and more expensive) models for those tasks.
4. Is It Good At Making Smoothies?
This is the main reason why people would want to crush ice. Smoothies are very healthy and popular drinks, and most people would want to know if the blender is able to prepare them.
Like I said above, only the most powerful models will be able to prepare smoothies (since it requires crushing ice). Go for a more powerful model if you definitely want your blender that can make smoothies for you and your family.
5. How Many Attachments/Different Functions Are There?
Cheaper models will be pretty basic in this regard; they either won't have any attachments or have one or two basic ones.
More expensive and advanced ones, on the other hand, will come with many attachments that turn the blender into a multi-purpose appliance. There may be chopping attachments, whisks, other blades, brothers, etc. that serve to a variety of purposes.
The more attachments and functions there are, the more will be the perceived value of the blender. However, all those extra functions (and the power required to perform them) will also increase the price. So, if the blender is simple and basic, you'll have the price advantage (why pay a lot of money for an immersion blender while you already have other appliances to perform those additional tasks?).
6. Is It Lightweight and Ergonomic? Does It Allow One-Hand Operation?
Some other important factors that affect usability are the weight, grip, and balance of the blender. A heavy or unbalanced blender will cause fatigue very soon (and maybe outright unusable for some people). Make sure you find out how heavy/light the blender is, whether or not it's easy to grip and if it allows one-hand operation (which is a big plus).
7. What's The Material? Plastic or Stainless Steel?
What I'm talking about here is mainly the material that the blade shaft is made of. The blade itself will of course be stainless steel, but some blenders have plastic blade shafts. Consumers tend to lean towards stainless steel shafts (and rightfully so). Therefore, if the blade shaft is plastic, you may want to look at another model.
8. Are The Shaft And Attachments Dishwasher-Safe? If Not, Are They Easy To Clean By Hand?
If the attachments are dishwasher-safe, it will be a real convenience. If they are not, how easy/hard they are to wash by hand? If the blender works really well and if the parts are easy to wash/clean, are you prepared to overlook the fact that they are not dishwasher-safe? You decide.
9. Is There A Wall Mount?
The wall mount is not a deal maker or breaker per se, but most people consider it a very convenient feature. It offers very easy storage, doesn't require much space, and keeps the blender handy at all times.
10. Does The "On" Switch Require Constant Pressing?
Some blenders require the user to constantly press the switch. While most people are used to this from all the older models, some people can see it as an inconvenience.
11. Does It Get Hot In Continuous Use?
Some models tend to get too hot when used continuously for a few minutes, and this can pose risks. Since most people are used to clean and put the blender away right after usage, they may burn their fingers or hands if the blade or attachments get too hot.
This can be a serious problem; if there are multiple complaints (from real user reviews) about this, you may want to look for a better model.
Top 3 Immersion Blenders You Should Consider
1. Cuisinart CSB-75 Smart Stick 2-Speed 200-Watt Immersion Hand Blender
Very affordable
200-watt motor
Two speed, one-touch control for easy, one-handed blending
Ergonomically designed grip
Dishwasher-safe blending shaft and beaker make cleanup effortless
Blends all kinds of foods, including salad dressings, powdered drink products, and sauces quickly
Ideal for combining dry ingredients, and can be used to emulsify mayonnaise, too
Available in a variety of colors
Bestseller No. 1
Mueller Hand Blender, Smart Stick 800W, 12 Speed...
Best On The Market – From our Titanium steel 4 blade rotation system, to...
Powerful And Fast - 12-speeds give you maximum choice and precision to...
Smart Appliance – Save money, time and effort with the multi-functions of...
Bestseller No. 2
Mueller Ultra-Stick 500 Watt 9-Speed Immersion...
Sophisticated Design - The ergonomic grip offers a non-slip and comfortable...
Exceptional Quality - The full copper motor withstands continuous use and...
Versatility - The removable blending arm with fixed blade locks into the...
Save Now
Bestseller No. 3
KitchenAid Variable Speed Corded Hand Blender -...
Removable 8" Bbending Arm, with 4-point stainless steel blade that quickly...
Take control over your recipes with the easy-to-use variable speed trigger...
US Patented removable pan guard to help protect your cookware when blending
2. Breville BSB510XL Control Grip Immersion Blender
280-Watt Motor
6-foot extra-long power cord
Variable speed: 15 settings for precise control
8″ immersion depth for large quantities or tall pots
Ergonomically designed, pistol-like control grip with trigger operation
Easy to operate
Easy to clean
Very efficient blending, emulsifying, whipping or pureeing. Use it to make velvety soups, thick mayonnaise, fluffy whipped cream, chunky pesto, dips, and salsa, smoothies, baby food, and more
Quite expensive
Bestseller No. 1
Save Now
Bestseller No. 2
Ovente Electric Immersion Hand Blender 300 Watt 2...
Powerful – Equipped with a high-speed 300-Watt motor, it quickly and...
Adjustable Speed – It comes equipped with a pulse-activated sensor with 2...
Sleek & Ergonomic – It's built with a sleek, ergonomically-designed...
Bestseller No. 3
Breville BSB530XL the All In One Immersion...
Includes 6 cup processing bowl with Reversible Shredding Disc, Variable...
Ergonomic Control Grip provides increased stability and control with soft...
Revolutionary bell-shaped blending base combined with internal ribbing...
3. Cuisinart CSB-79 Smart Stick 2-Speed 200-watt Immersion Hand Blender
Affordable
200-watt motor
Push-button control for continuous or pulse action
Comfort grip handle
Stainless steel detachable blending attachment
Easy clean-up
Quick and easy to blend, prep, and whip a variety of ingredients
Drip-free pouring
Includes blending, whisk, and chopper/grinder attachments
Save Now
Bestseller No. 1
Cuisinart CSB-179 Smart Stick Variable Speed Hand...
SUPERIOR FUNCTION: Versatile and durable, the Cuisinart 300-watt Smart...
MUST-HAVE FEATURES: Comfort-grip handle with push-button for continuous...
EASY TO USE: ON/OFF switch with lock/unlock button and 8-inch stainless...
Bestseller No. 2
Save Now
Bestseller No. 3
Related Guides And Lists