Panasonic ES8103S Arc3 Men's Electric Shaver Overview: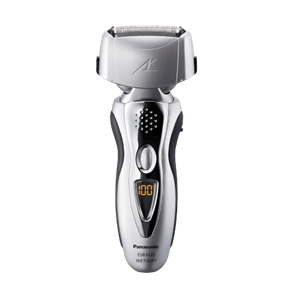 If you need a close, comfortable shave, then you'll want to consider getting the Panasonic ES8103S Arc3. This innovative electric shaver is one that consistently earns high praise from many users because it comes with plenty of features.
One feature that you'll enjoy is the pivoting head. That means you won't have any more of the struggle to shave those hard to reach places that you used to have. Instead, you'll able to quickly and easily remove hair from all over your face without the frustrating hassle of trying to get the angle just right. The Panasonic ES810S is both a wet and dry shaver combined.
You can use it with or without gel and on the go or at home. Another reason that this electric shaver is one of the popular models is because of the hypoallergenic blades and foils.
Savings For Mens Panasonic ES8103S Arc3 Shaver [Today Deals]
If your skin is sensitive or breaks out easily, then you'll love the gentleness of this shaver on your face. A long battery life is another plus for this shaver. A single charge will give you the ability to shave fix or six times before you need to recharge this unit.
There's also a battery indicator so you can tell when it's time to plug your shaver in. But don't worry if you're in a rush. You can do a simple five minute charge and that will give you enough power for a quick shave.
You'll also find the included trimmer a time saver. It's built-in, so you don't have to search for and attach an extra piece to your electric shaver like you do with some shavers. You can use it to trim areas with tough hair. The trimmer feature is ideal for shaving your sideburns, goatee, or beard. Plus, you don't worry about being stuck with dull blades.
The blades included with this electric shaver will last for two years and maybe even longer depending on your frequency of use and care. The secret to long lasting blades can be found in the sonic vibrations Just use water to rinse your blade and the vibrations will remove debris that normally gets trapped under razor blades. This will help keep your blades clean and sharp and ensure that they last for a long time.
The foil also has a long life, but not quite as long as the blades. You'll need to replace the foil every year or so. But again, it depends on your usage. If you use this electric razor only a couple of times each week, you may get a longer life for the foil than other consumers. While you may have to replace the foil at some point, the advantage of using a foil razor is that you get a closer, cleaner shave.
Highlights:
Sharp nanotech blades with an arced foil provide a close, touchable shave.
Adjustable pivoting head follows facial contours for a precision shaving experience.
13,000 RPM motor provides a constant stream of power for a consistent shave.
Wet or dry shave design for use in or out of the shower.
Pop-up trimmer for detail grooming to keep you looking your best.
Turbo cleaning mode accelerates shaver to 17,000 RPM to shake of residue that might stick to your blade.
Related Guides And Reviews