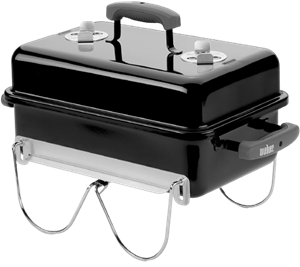 Overview: Weber 121020 Go-Anywhere Charcoal Grill whether you're looking for a high quality portable grill for tailgating, camping, or just looking for a small grill to use at home the Weber 121020 Go-Anywhere Charcoal Grill fits the bill. This grill is a small, hibachi-style grill that can be taken just about anywhere you need to go. It's perfect for apartment use as well. Being compact, the Weber 121020 Grill can be easily stored in a closet or on a shelf.
The actual grill is low to the ground, so you'll either need to place it on a tabletop or stand in order to elevate it. You can also operate it on the ground if you're willing to bend down a bit. The legs lock in place so you can be sure to have safety when using flames.
When it comes to cooking, built-in air vents help the grill to stay hot and provide even temperature cooking. This is an uncommon feature in a portable grill that makes it more like larger grills. This also helps the grill to stay hot for longer periods of time.
Savings For Elliptical Trainers [Today Deals]
Highlights:
Made in the USA
Charcoal grill
Made of porcelain-coated cast iron
Pivoting legs
Built-in lid hangers
Triple-nickel-coated steel grate
160-square-inches of cooking surface
Overall dimensions: 14.5″ H x 21″ W x 12.25″ L
Weight: 14.5 pounds
What makes the Weber 121020 Go-Anywhere Charcoal Grill stand out from the crowd of other small grills is the quality that you can expect from Weber. This grill has a porcelain coating that helps to prevent rust from forming. If you've had experience with a rusty grill, you know how important that is.
While this is a small grill, but it can manage more food than you might expect. You can easily cook six to eight hamburgers on the surface. That's almost twice as much as the typical small grill can handle.The cooking surface is high-quality nickel-plated. It's easy to clean. You may want to give it a spray of vegetable oil before cooking just to help ease food off the grill and make cleaning even easier.
The Weber 121020 Go-Anywhere Charcoal Grill carries a great price tag too, for the quality you'll be getting. Rather than having to replace your grill every summer, you'll be able to use this grill for years to come.
Charcoal grilling is one of the longest traditions for the outdoor enthusiast. This grill is so adaptable that it can be used just about anywhere. If you have a friend or family member that loves to tailgate, go camping, or picnic you certainly can consider the Weber 121020 Go-Anywhere Charcoal Grill as the perfect gift.
Related Guides And Reviews