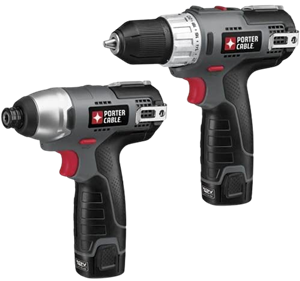 Porter-Cable's PCL212IDC-2 12-volt Max lithium-ion 2-tool kit includes the PCL120DD drill/driver and the PCL120ID hex impact driver, two tools that have efficient sizes that make it easier to work in smaller or restricted spaces but don't sacrifice power. This combo kit provides outstanding value for users looking for quality and convenience. It's an ideal set for household jobs.
In addition, the impact driver has a 1/4-inch quick-release hex chuck that makes it possible to have rapid accessory changing, thereby saving time on the job. The LED work lights help to make work easier in low lighting or dim areas, while the magnetic belt hooks keep the tools close and ready for action, and the magnetic bit holders keep the screws in order.
Savings For Porter Drill Driver [Today Deals]
Highlights
Drill specifications: 420 inch-pounds torque, 0-315, 0-1,200 rpm.
Impact driver specifications: 950 inch-pounds torque, 0-2,400 rpm, 0-2,500 bpm (blows per minute).
Integrated LED work lights for working in darker conditions.
Drill/driver's 2-speed gearbox provides rapid drilling.
Magnetic belt hooks, magnetic bit holders.
Drill/driver measure 7-1/2 inches in length and weighs 2-1/2 pounds (with battery) and the impact driver measures 6-3/8 inches long and weighs 2-1/2 pounds (with battery).
Power in Smaller Packages
Porter-Cable's PCL212IDC-2 2-tool kit features compact tools that boast impressive power
Tough the drill/driver and impact driver have a lighter weight and a more compact size, they still are ideal for helping with a wide range of jobs thanks to their power and high performance. It starts with the drill/driver's 2-speed gearbox that brings high-speed drilling, at 0-315 and 0-1,200 rpm, and its 220 inch-pounds of max torque for high-torque fastening. Also, the impact driver provides 950 inch-pounds of torque, but still avoids any kickback, making it easier on the user while not sacrificing any performance.
A Host of Helpful Features
Porter-Cable's PCL212IDC-2 2-tool kit's drill/driver has an adjustable clutch that boasts 20 settings, delivering flexibility when used with an array of materials, and its single-sleeve 3/8-inch chuck has a spindle lock that instills high grip torque for helpful bit retention.
Warranty
Porter-Cable's PCL212IDC-2 kit comes with a 3-year limited warranty, a 1-year free service contract, and a 90 day money back guarantee.
What's in the Box
One PCL120DD drill/driver, one PCL120ID hex impact driver, two PCL 12BLX 12-volt lithium ion batteries, a PCL 12C 12-volt 30 minute charger, two belt hooks, PH #2 screwdriver bit, double-ended screwdriver bit, storage bag.
Related Guides And Reviews