Saeco Xelsis SS Overview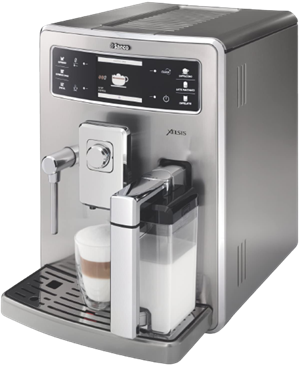 The Saeco Xelsis SS Automatic Espresso Machine is capable of making a wide range of espresso drinks and will automatically add perfectly frothed milk to your cup. It's a pricey machine. But I bet you'll never look back once you welcome this espresso maker into your home, as the customizable features and intuitive buttons allow for seamless operation at your fingertips. You can be your own barista with the 36 beverage choices activated with the touch of a button!
If you've finally achieved that perfect cup of espresso, don't worry about losing your touch. There are six user profiles that can be programmed with up to six beverages. In the morning, just press your button and go, while the next person in the household can do the same.
Naturally, the Saeco Xelsis SS is an investment, but you won't find plastic housing or parts on this machine. Made from stainless steel and having a large external milk carafe, ceramic disc grinder and pre-ground coffee bypass dozer, you can expect nothing but the very best from this durable, avant-garde machine.
Savings For Automatic Espresso Machine [Today Deals]
Specifications & Features:
Model number: 4335
Product Dimensions: 14.5 x 11 x 16.5 inches
Product Weight: 40 pounds
Material: Stainless steel, chrome
Highlights: Create up to six profiles for each member in the home, fully customizable, choose the strength and consistency of your coffee with the user dial
Large external milk carafe with a built-in cappuccinatore hooks directly to the front of the machine, automatically frothing milk directly into the cup.
Can also froth milk manually using the hot water wand, which provides filtered hot water for other beverages
Ceramic disc grinder provides an even grind, allowing perfect dosing and blending, giving you more control over the density and body of your coffee
Pre-ground coffee bypass doser
Removable 54-ounce water tank with the Intenza water filter included
Machine switches off automatically ONE hour after use
PROS:
1. Fully Customizable:
If you're tired of wasting good espresso beans on trying to achieve that perfect espresso, your frustration will come to an end with the Saeco Xelsis SS. This machine has 36 different beverage settings, including a light roast coffee or a bold espresso. These 36 beverage settings are all activated with the push of a button, and there are six user profiles that can be customized for each member in the family. Of these six settings, each person can add up to six of their favorite beverages for touch-and-go use each and every time.
2. Rugged Construction:
Even high-end espresso makers on the market are made from ABS plastic. With the high cost of these machines, it's no surprise that buyers prefer a metal construction that not only looks better, but also stands up to heavier use. The Saeco Xelsis SS is made from chrome and stainless steel parts and housing. It is heavy, 41 pounds of heavy to be exact, while many other machines are only ten pounds.
You won't be able to lug this machine around the home or bring it to the workplace, but you will enjoy a well-constructed, durable machine that will live up to its high price tag.
3.High Performance:
The Saeco Xelsis SS operates at high performance all the time. The saying goes, "you pay for what you get", and this machine is no exception. It can make every type of specialty coffee drink imaginable, allowing you to feel like you have a coffee bar in your own home. The wide display is easy to read and thoughtfully positioned on the front of the machine.
And instead of having to work with a bunch of small tools such as steaming wands and frothing devices, you can enjoy an integrated milk solution and external milk carafe that give you the full-bodied cappuccinos and lattes with a layer of foamy cream on top.
4. Consistent Results:
With today's espresso machines, you can use them with pods or make the espresso yourself, but there seems to be no happy medium. People enjoy making their own espressos, but achieving the perfect balance of beans, bean strength and fineness of the grains is difficult.
With the Saeco Xelsis SS, you finally have the balance. You can experiment with various settings, temperatures and beans, and once you achieve your prefect cup, you can program it into the machine. With six profiles, no two people have to share the same tastes, and you can wow guests with your perfectly consistent brewing skills.
CONS:
1. Expensive:
There's no doubt that the Saeco Xelsis SS is worth the money, but it's an investment that many people aren't willing to make. Some say that the cost of the machine is eventually offset by the money saved from going to local coffeehouses, but still, many people don't consume several thousand dollars of coffee in a short amount of time.
Since the market is exploding with budget-friendly coffee and espresso makers, many feel that they can get similar performance for much less. You may be giving up the intuitive, customizable features, but the ease of performance can be rivaled by some cheaper alternatives.
2. Heavy:
At 40 pounds, the Saeco Xelsis SS is certainly a heavy machine, so it's definitely something that will need adequate counter space and a permanent home. Many espresso makers are designed to be lightweight and portable so that you can take them to work or a vacation home, but this espresso machine is not for that type of use.
Fortunately, the machine is just heavy and still boasts a stylish design that will fit with today's modern décor. And for the cost and convenience of the machine, you'll proudly want to display it on your countertop.
BOTTOM LINE:
If you have the money to spend, the Saeco Xelsis SS is a wonderful purchase that will enable you to be your own barista. There are few drawbacks to this machine since it's highly intuitive, made from stainless steel and fully customizable.
Buy Saeco Xelsis SS
Cleanup is a snap, and the integrated milk solution, external milk carafe, and milk circuit give you the best tasting cappuccinos and lattes with less fuss. With the ability to churn out hot, consistent, and high-quality specialty beverages, the Saeco Xelsis SS will change your life for the better.
Related Reviews & Guides