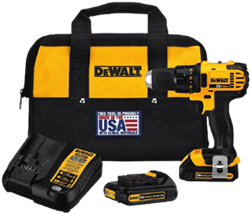 Dewalt'S DCD780C2 20-volt max lithium-ion compact 1.5 Ah drill/driver kit comes equipped with advanced technology and innovative features that make it ideal for commercial and residential builders. HVAC contractors, remodelers, carpenters, woodworkers, electricians, and plumbers for medium-duty tasks. Its extreme durability, performance, and comfort allow users to match the tool to the task at hand. Increasing its flexibility for a variety of applications.
Its 7.5-inch length is half an inch shorter than other currently available drill/drivers. The bright built-in LED work light above the trigger has a 20-second delay that improves visibility in dimly lit spaces.
Savings For Dewalt'S DCD780C2 [Today Deals]
#
Preview
Product
Price
1
Chuck Keyless for DeWALT KIMGU N092054 DCD780...

$33.00

Check Latest Price
2
DEWALT 20V MAX Cordless Drill / Driver Kit,...

$229.78

Check Latest Price
3
DEWALT 20V Max Cordless Drill / Driver Kit,...

$179.00

$99.00

Check Latest Price
4
DEWALT ATOMIC 20V MAX* Hammer Drill, Cordless,...

$71.95

Check Latest Price
5
DEWALT 20V MAX* Cordless Drill / Driver Kit,...
Check Latest Price
Highlights:
Compact and ergonomic design that doesn't compromise on power.
Lithium-ion batteries offer increased power and run time while weighing less than NiCd batteries. Lithium-ion batteries are also better for the environment, as they do not contain toxic cadmium.
Two-speed transmission delivers 0-600 RPM and 0-2,000 RPM.
1/2-inch ratcheting chuck with carbide inserts helps to reduce bit slippage.
Includes belt hook and on-board bit holder and an LED task light for convenience.
Shorter battery recharge time – Ready to go in half an hour (30 minutes).
Drill/driver backed by 3-year limited warranty.
Strength and Speed
The DCD780C2 20-volt max lithium-ion compact 1.5 Ah drill/driver is compact and ergonomic for user comfort
Dewalt-designed electronics have been built into the DCD780C2's switch to provide maximum life for the tool and battery by helping to protect them from overheating, overloading, and deep discharge during use.
The 20-volt's lithium-ion batteries provide up to 35 percent more runtime than existing 18-volt lithium-ion battery technology. The included charger has dual voltage capabilities, and it is compatible with both 12-volt max and 20-volt max Dewalt lithium-ion batteries.
The DCD780C2 is also compatible with the 3.0 Ah lithium-ion batteries that are available as replacement packs or come with premium tools. Plus, the drill's high-power, high-efficiency motor delivers 350 unit watts out of maximum power for superior performance in light and medium drilling applications.
A 1/2-inch ratcheting chuck with carbide inserts provides superior bit-gripping strength—reducing slippage during high-torque applications. Thus providing longer tool life. The drill/driver's two-speed (0-600 RPM and 0-2,000 RPM) transmission allows users to select the appropriate speed for the job at hand and is up to 30 percent faster than current drill/drivers on the market.
Comfort and Convenience
The compact drill's design incorporates a slim handle with a contoured grip that extends user comfort during long jobs. Dewalt's engineering and design team adjusted the product footprint and weight allocation for ideal balance and a lightweight feel. Making the 3.4-pound tool easy to maneuver in tight areas.
About Dewalt's 20-Volt Mx Lithium-Ion Tools
Dewalt's line of 20-volt max lithium-ion tools features improvements in engineering and design to provide the performance, ergonomics, and innovation that contractors require. The new line consists of 11 tools, two lithium ion batteries, and two battery chargers, as well as a number of combo kits.
What's in the Box
One Dewalt DCD780C2 20-volt max lithium-ion compact 1.5 Ah drill/driver kit, including one 1/2-inch drill/driver, two 20-volt max. 1.5 Ah lithium-ion batteries, one 30-minute fast charger, one belt hook, one on-board bit holder, and one hard plastic storage and carrying case.
Related Guides And Reviews