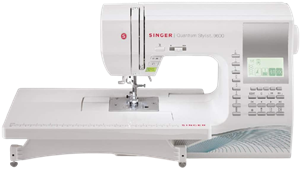 Overview: Featuring sophisticated functions and smart technology, with everything sewers need and more. An amazing selection is what awaits users who purchase the SINGER 9960 Quantum Stylist 600-Stitch Computerized Sewing Machine. This machine has an incredible 600 stitch patterns that come with the machine, which will give you something for every project you can imagine.
Save Now
SINGER | 9960 Sewing & Quilting Machine With...
SINGER COMPUTERIZED SEWING MACHINE: The SINGER Quantum Stylist 9960...
AUTOMATIC NEEDLE THREADER: Threading the machine is so easy that you can...
BEST SEWING MACHINE: The SINGER Quantum Stylist 9960 sewing machine has 600...


But that's only the tip of the iceberg for the features offered by the SINGER 9960. Five alphanumeric fonts are included and it has more buttonhole options than many other machines. With 13 one step buttonholes, creating the buttonhole you want is quick and easy. With this feature, buttonholes are created in a way that keeps the fabric from bunching up so you get perfect buttonholes every time.
One of the top features that this machine has that many don't is a buttonhole underplate. That's a tool that will make buttonholes through more than one layer of fabric. Another super handy feature is the automatic thread cutter.
StansTips Saving For Sewing Machine [Deals]
This thread cutter cuts both top and bottom thread at the same time, so no straggles are left behind. When you stack up the features this machine has, it comes out way ahead of other machines.
To guide you into finding the right stitch to use, the machine gives users a stitch reference chart located right on the front of the machine. This way, you can stop the guesswork with stitching and concentrate on the project instead.
Left: Easy Threading System with Automatic Needle Threader; Middle: Top Drop-In Bobbin System with Clear Cover; Right: Digital Information Advisor
The machine has the ability to put out 850 stitches per minute which is pretty darned fast but when you're working with something like a silky fabric, you want a slower speed and the machine offers that too with its slow sewing speed feature.
The needle threader makes it a breeze to get started every time you want to use the machine. The machine has an attachable extension table and this piece is removable for when you aren't working on the larger projects. But if you're going to be sewing a blanket, then this piece is a handy piece to use.
Left: Free Arm; Middle, 13 Fully Automatic Perfectly Sized Built-In Buttonhole Styles with Exclusive Buttonhole Underplate; Right: Extension Table
The computerized Digital Information Advisor is one of the biggest bits of help for both beginners and advanced sewers. What this handy tool can do for users is to let them know which presser foot should be used with the project.
But it also lets sewers know the best stitches to use for the project. It will even give the best stitch pattern. Users can set the program on the machine so that the needle comes to rest in either an up or down position, which makes it easier to turn the material you're working with.
This machine has so many features that are great for sewers. It has horizontal threading, which means you spend more time sewing less time having to rethread the machine. You'll get 25 needle positions and it has twin needle capability. One of the major pluses too with this machine is that it offers an error warning alert. When a mistake is made, the machine will let you know.
Highlights:
An automatic needle threader and top drop-in bobbin system make for quick and easy set-up.
600 built-in stitches including 13 styles of fully automatic one-step buttonholes and 5 different fonts provide endless project possibilities.
Stitch editing capabilities allow you to control the exact look of a stitch pattern with elongation and mirror imaging.
One-touch automatic thread cutter trims the upper and lower threads when you are done sewing for faster and easier sewing.
Electronic auto pilot and speed control provide complete control of sewing speed making sewing difficult areas easier and error-free.
110-volt machine designed for the United States and Canadian use only.
Related Reviews & Guides