Most toasters on the market offer more or less similar basic functions that include bagel, defrost and reheat settings. However, an expensive model doesn't necessarily give you a better toasting performance than a cheaper one since you're actually paying more money for features such as stylish design and certain special settings such as reheat, keep warm and countdown timer, etc.
Stans Tips Savings For Toaster [Today Deals]
Below is a list of items you'll want to know before buying a toaster:
1. How many slices can it toast?
Most models on the market can toast two slices at once, while some (pricier) models can toast 4 slices. The number of slices (and the time it takes to toast them) will be important especially for users who have families of 3 or 4. These users may want to be able to toast 4 slices at once as it allows them to serve the whole family at once.
2. How large are the slots?
One of the most important things is the width of the slots. While most toasters can hold normal sized (commercial) slices, homemade bread slices tend to be longer and/or wider and not fit in normal sized slots.
3. Is the browning easy to adjust and consistent?
One of the things that annoy people most is a toaster which leaves one batch untoasted while almost charring the next. Make sure to pick a model which can produce nicely and evenly toasted slices every time.
4. How many controls are there? Are there separate controls for slots?
Some models come with many control options (defrost, bagel, etc.) and even have separate controls for each slot. Extra controls also mean higher prices.
5. Is there a high lifting feature?
Most models nowadays are equipped with a high lift feature which makes it easy to take the slices from the toaster and eliminates the risk of touching hot parts and burning fingers.
6. Is the housing cool to the touch?
In some older models, the housing tended to get hot, posing a risk of burning the user's hands or fingers. It would especially pose a threat to little kids. Luckily this problem doesn't exist in decent models today.
7. Is there a lift-and-look feature?
Some new, advanced and pricier models offer a lift-and-look feature that allows the user to check the slices visually without stopping the cycle. This is kind of an "extra" feature that is only included in a few models at the moment.
However it's not an essential feature after all, and most consumers can live without paying extra money for that feature.
8. Is there a "little bit more" option?
Just like the lift-and-look feature, the "little bit more" option is an extra that is included in some advanced models. This is actually a short cycle that you can use to brown the slices "a little bit more" without risking to burn them.
9. Is the crumb tray easy to remove and clean?
The only user maintenance a toaster will require is to remove and clean the crumb tray from time to time. It is therefore important that the tray is easy to remove and clean. Most models on the market have easily removable trays.
10. How much counter space does it take? Does it look good on the counter?
And last but not least, unlike most other appliances, toaster generally remain on the counter or on a shelf and not stored away. It is hence important that it doesn't take up too much counter space and look good.
However, most manufacturers spend a lot of thoughts and effort to create visually attractive models, so it's unlikely that you'll encounter with an ugly model.
Which to buy?
Best Low Cost Toaster: Hamilton Beach Ensemble
SmartToast Extra-Wide Slot Toaster 22323
Affordable price
900-watt 2 slice toaster
On-board toast tong set included – so that users don't burn their fingers when removing toast
Cool touch exterior
Automatic shutoff if toast gets jammed
Toasts bagels, English muffins and other breads
Control – Bagel, cancel and defrost buttons
Best Overall Toaster: Breville BTA830XL
Die-Cast 4-Slice Long Slot Smart Toaster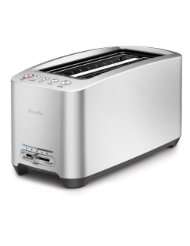 Quite pricey
Extra-wide slots, 4-slice capacity for any shaped bread
1600-watt heating element
Easy to use
Produces consistent and evenly browned results
Lift & Look feature which raises the toast slices for you to see whether it's toasted to the desired level, and then gently lowers it back down
LED toasting progress indicator
Toast ready sound alert can be adjusted to High, Low or Mute
Learn more
Best Value Toaster: Cuisinart CPT-440CH
Touch to Toast Leverless 4-Slice Toaster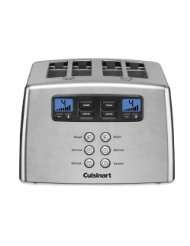 A motorized control lowers items into 4 extra wide slots with the touch of a button
Dual control panels, with blue backlit LCD displays and countdown timers, control two slots each
One-sided enhanced bagel toasting
Reheat and defrost controls
Audible alert signal
7 shade settings
3 year limited warranty
Related Guides And Reviews
A Comprehensive Guide For Toaster Oven Shoppers
Coffee Maker Buying Tips