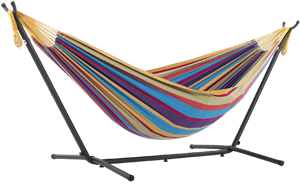 Overview: Hammocks conjure up images of cool blue water, waving palm trees, coconut cocktails, and utter relaxation. But you don't have to take a flight to Costa Rica to lean back and enjoy the sun; now you can bring that peace and serenity home with you with the Vivere UHSDO9 Double Hammock!

And you don't have to have two perfectly spaced trees outside in order to enjoy the comfort of a hammock. Because it has a space-saving steel stand, you can place the Vivere Double Hammock anywhere that you'd like it to go. It can stand indoor or outside.
It's a double hammock, which means that it's just perfect for couples who want to relax together or a couple of kids who want to stretch out and read. The fabric that makes up the hammock is offered to you in two choices.
Saving For Steel Stand [Today Deals]
You can either get it in cotton or Sunbrella fabric. Sunbrella fabric means that the material is resistant to the wear and tear that can be caused by weather. The material is stain-resistant, so if someone accidentally spills a drink on it, you can just wipe it clean with a little soap.
Most people think of Sunbrella fabric as comparable to cotton. If you choose to go with the cotton fabric, you'll also experience a lot of relaxing comfort with this hammock. But cotton will last longer if you don't leave it out in inclement weather.
The stand for the hammock is 9 feet tall so that you get plenty of height from this support structure. But a great feature is that the height of the hammock is adjustable. So you can put it closer to the ground if you like.
Because it's a steel stand, it's made for durability and support. The steel bars can be put together easily without any tools when your hammock arrives after shipping.
It has a high weight limit and can easily hold up to 450 pounds of weight. Because it's so long, it can also easily hold someone who's over 6 feet tall. Though the hammock is wide and can easily support two people, it's also considered lightweight at only 35 pounds.
This lightweight makes it easy to switch locations of the hammock. You can go from watching the sunrise or sunset to relaxing inside your home in the air conditioning within just minutes.
As a safety measure, there are plastic caps fitted on the ends. This means there won't be any sharp edges for you to deal with. Because the hammock is so lightweight, it's perfect for you to take with you when you're traveling.
So if you want to head to the beach or take a trip to the lake, you can slip the hammock into the carrying case that comes as part of the purchase. It makes a great way to relax on a camping trip and because it folds up into such a small package, it doesn't take up much room at all.
Highlights:
Double hammock with space-saving stand
The hammock is 100-Percent cotton
The space-saving 9-Foot stand is constructed of heavy-duty steel and assembles in minutes without any tools
The carrying case is included
Hammock bed is 63 x 94-Inch, with a total length of 130-Inch
Accommodates two adults
Pound capacity
Backed by a 12-month warranty on all materials and workmanship
Related Guides And Reviews