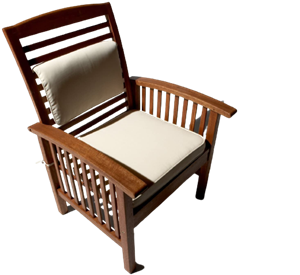 Overview: Elegant armchairs can make a great choice as an individual seat or as a group of outdoor seating options. When you're kicking back outside relaxing or you have some friends over hanging out for a barbecue, you need some comfortable seating.
For comfort, you want chairs that don't sit straight up because that can put a strain on your hips and back. That's where the Strathwood Gibranta All-Weather Hardwood Arm Chair comes in.

Featuring a slightly reclined seat and arcing arms, this Strathwood Gibranta arm chair makes a comfortable and handsome addition to any porch, patio, deck, or yard, as well as any indoor living space.
Saving For Steel Stand [Today Deals]
Chairs that recline at a small angle help your body be more at ease because there's not as much pressure put on your spine. Chairs like these that have arcing arms also reduce the tension in the shoulders as well as in the wrists.
Besides functionality, these Gibranta chairs (come in set of 2) are also pleasing to look at. They add plenty of front porch appeal as well as make for great chairs to have on a back deck. Because the chairs are so beautiful to look at, some buyers use them inside the home instead of using them outside.
The chairs have a cushion for the back to offer lumbar support for you. There's also a cushion for the seat part of the chair. You can adjust the back pillow as needed to offer higher support if you don't want it at your lower back.
The cushions are securely fixed to the chair by the use of ties so you don't have to worry about the cushions scooting aside when you go to sit down. The ties also help keep the cushion steady in case the wind picks up.
The chairs are built to withstand inclement weather. The design lets water pass through the wood instead of pooling which can hasten the demise of wood furniture.
What this design feature does is it lets the chair dry faster whenever it does happen to get wet. But the slats are created in such a way that they do offer maximum support in the seating area.
Each of these chairs is solid wood so that makes them a little heavier than the average outdoor chair. These weigh about 20 pounds per chair. You will need to put them together when you get them. The chairs are made from eucalyptus wood, which is weather-resistant and extremely long lasting wood. Not only that, but eucalyptus wood does not easily rot in bad weather.
Highlights:
Strathwood Gibranta All-Weather Hardwood Arm Chair, Set of 2.
All-weather, hardwood armchair with removable cushions for outdoor or indoor use.
Durable, FSC-certified Eucalyptus hardwood; galvanized, rust-free hardware; easy assembly.
No oiling required, unless to maintain desired color; wood weathers to handsome gray.
Coordinates with the Strathwood's Gibranta coffee table and two-seater bench (sold separately).
Each measures 24 inches wide by 28 inches deep by 35 inches tall.
Weighs 20 pounds each.
It also doesn't succumb to insects that want to try to build a home in the wood. Upon arrival, the wood of these chairs will be a nice brown color. Over time, they will lose this color and turn gray if you don't prepare the wood.
You can prevent this change in color from happening by coating the wood with hardwood oil on a regular basis. You should coat the wood portions of the chair one to two times with hardwood oil each year in order to maintain the color.
Related Reviews & Guides