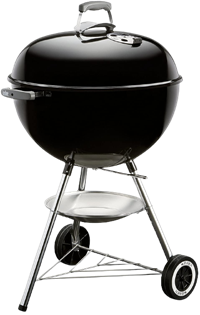 Overview: Weber 741001 Silver One-Touch 22-1/2-Inch Kettle GrillIn the years since George Stephen created the first Weber grill, the Weber name has become synonymous with backyard barbecues and the family, friends, and good times that go with them. The Weber 741001 22-1/2-Inch One-Touch Silver Kettle Grill is among the many legendary Weber charcoal grills that have become a backyard icon. Its quality and how it delivers exceptionally delicious grilled results every time will blow you away!
The Weber 741001 22-1/2-Inch One-Touch Silver Kettle Grill is simple in design. It's shaped like a bowl which helps to provide an even cooking surface. The actual cooking surface is 22-½ inches in diameter. That may not sound like much, but it's enough to cook for 6-12 people at a time.
StansTips Savings For Kettle Grill [Today Deals]
This grill will give you that incomparable charcoal flavor that most grillers love. It doesn't have a lot of fancy features, but those that it does have to make the difference. It is inexpensive to purchase, coming in around a hundred dollars. For the price, you'll see it does have the quality and great value.
The actual grill is coated in porcelain. That coating makes it easy to clean and, even more importantly, protects it from the elements. You won't have to worry about your grill getting rusted if it's left out in the rain.
The legs of the grill are made of aluminum. This is another rust-resistant material. While many grills become rusty over time, you'll find that this grill will stay looking good year after year. While it's resistant to rust, you'll want to keep it covered or out of the elements to extend its life.
Highlights:
Made in USA
Kettle grill with 363 square inches of total cooking space
22-1/2-inch-diameter plated-steel cooking grate
Rust-resistant vents
Porcelain-enameled bowl and lid with glass-reinforced nylon handles
Aluminum ash catcher; aluminized-steel One-Touch cleaning system
Measures 22-1/2 inches long by 25 inches wide by 38-1/2 inches high
10-year limited warranty
"One-Touch" refers to the hassle-free cleaning system of the grill. Unlike most grills which take considerably longer to clean and prepare for their next use, the Weber 741001 has a built-in device that helps you to remove ash out of the grill and clean it in just a matter of seconds!
When you purchase this grill, you can be confident that you won't need another grill for many years to come. This grill has been designed to work well for a lifetime of charcoal grilling. What makes this different from other grills in the same price category is the design and quality.
You'll find that the Weber 741001 grill provides even cooking that makes it so easy to cook. You'll also find that you love it as much after several years of cooking as you did the first time. You'll love it even more as you continue to discover the quality of the grill and the delicious grilled foods it cooks for you!
So…If you're looking for value and quality, there's no need to keep searching. The Weber 741001 22-1/2-Inch One-Touch Silver Kettle Grill is the best quality grill that will please you for many years of outdoor cooking.
Related Guides And Reviews