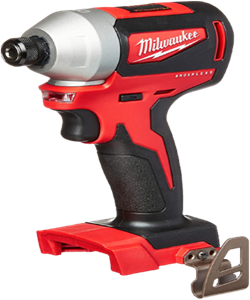 Overview: The Milwaukee M12 Drill/Driver has the power to drive the majority of common small fasteners, and the run time of full day screw driving without recharging. The compact size allows users to work in tight places for increased convenience. This driver/drill provides two speeds for fast drilling and fastening, a compact, portable design, and an integrated LED and fuel gauge for increased productivity and decreased frustration. It's ideal for a range of applications in both sheet metal and wood.
250 In-lbs. of Torque for Fast Driving and Full-Day Runtime
2-Speed (0-1,500/0-400) All Metal Gear Box provides up to 35% faster drilling/fastening and Milwaukee durability.
The 2410-22 offers a two-speed (0-1,500 and 0-400) durable metal gear box to provide up to 35 percent faster drilling and fastening than the competition. Its powerful motor delivers 250 in./lbs. of torque, which is 25 percent more than comparable models, for fast, efficient results when driving most small fasteners, as well as the runtime of full-day driving without recharging.
StansTips Savings For Drill Driver [Today Deals]
To withstand heavy-duty Jobsite conditions and tasks, 2410-22 is the only tool in its class with a 100-percent metal 3/8-inch single sleeve ratcheting and locking chuck for maximum durability and bit grip.
Also, the 2410-22 is easy to handle and hold, thanks to its lightweight and compact size. Measuring just 7-3/8 inches and weighing only 2.5 pounds, the 2410-22 is the perfect size for your tool belt and comfortable, all-day use.
Highlights:
Integrated LED and Fuel Gauge increase productivity and decreased frustration.
Voltage: 12 Volts
Speed: 2 Speed
No Load Speed: 0-400/0-1,500 RPM
Torque: 250 in-lbs
Chuck Type: 3/8″
Batteries: M12 LITHIUM-ION Batteries
Charge Time: 30 minutes
Length: 7-3/8″
Tool Weight: 2.5 lbs
Integrated LED and fuel gauge
For added convenience, and to ensure user-friendly operation, the 2410-22 features a clear, bright LED and an on-board fuel gauge so you'll always have power when you need it.
M12 Lithium-Ion Power: Compact, Lightweight, and Dependable
Reliable, long-lasting LITHIUM-ION power is just one part of a full feature set.  Cordless power frees you from the cost and waste of disposable batteries and the hassle of setting up and using manual tools, but a cordless tool is only as reliable as its battery, that's where M12 Lithium-Ion batteries come in.
You can trust the 1.4-amp-hour Lithium-Ion battery that powers each Milwaukee M12 tool to deliver long runtimes and fade-free power. Lithium-Ion batteries will also offer long battery life, so you'll save money by avoiding replacements.
Since Lithium-Ion batteries are significantly smaller and lighter than competitive NiCad batteries, they play an integral role in making Milwaukee's compact M12 tools ergonomic, comfortable to use, and easy to maneuver while you work.
Plus the M12 Lithium-Ion battery charger delivers fast, 30-minute recharges, so you can be sure that your tools will be ready to use when you reach for them.
Warranty
This product is backed by a one-year warranty that protects against defects in materials or workmanship. M12 LITHIUM-ION batteries are backed by a two-year battery warranty.
What's in the Box
Drill/driver, (2) 12-volt battery packs, charger, and case.
Related Reviews & Guides