1. How Powerful Is The Motor? Can The Chopper Do Anything Else Than Chopping?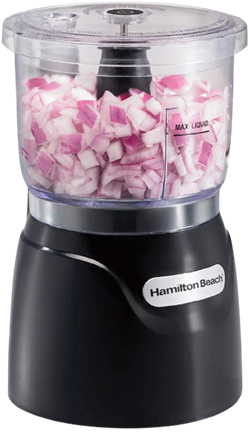 A food chopper can do more than chopping; some multi-task models (with more powerful motors) offer the ability to mince, dice, puree and emulsify with various attachments. Hence, the multi-task models can be considered as mini-processors.
2. What's The Bowl Capacity?
Food choppers normally have smaller bowls in comparison with food processors. Most models will have a capacity between 1.5 and 3-4 cups. If you need more capacity (upwards of 5 cups) often, you may be better off with a food processor.
3. How Does It Perform With "Harder" Stuff Like Walnuts, Etc. Does The Motor Heat Up?
Most food choppers have the juice to chop foods like potatoes, garlic, tomatoes, etc. But some models may have a hard time chopping tougher foods like walnuts. In some cases, the motor heats up too much and the chopper may actually die. Get a more powerful model if you need to chop tougher foods.
Stans Tips Savings For Food Chopper [Today Deals]
4. Does It Leave Anything Unchopped?
This is sort of a common problem people encounter. Some chopper models may leave food unchopped due to a couple of reasons. First, there can be odd spaces between the radius of the blades and the edges of the bowl, where some food may get stuck and untouched.
And second, most models do not have a "small batch" mode; which means that if you put in only a few pieces of food, the rotation of the blades may rise food to the top, preventing them from being chopped.
5. Is The Bowl Sturdy? Does It Tend To Crack After A While?
Apart from the motor, the durability of the bowl will be the most important factor that practically determines the lifespan of the food chopper. If it's well made and durable, you can use the food chopper for years (provided that the motor is also up to par of course).
6. Is The Touch Button Control Easy To Use? Does It Have Pulse Control?
Some models have awkwardly placed touch buttons that make it hard for you to press, while other choppers have High and Low pulse controls which make chopping different foods much easier (some foods may require extra power and speed, while some others are more delicate and require slower chopping).
7. Are There Lid And Blade Safety Features?
Some models have extra safety measures that seal the lid to prevent accidental spilling (this feature is very handy, especially when dealing with liquids) and/or lock the blades in place to prevent them from getting loose and potentially causing injuries. Both are very handy and convenient safeguards to have.
Unfortunately, most choppers on the market do not have either of the above features.
8. Are The Parts Dishwasher-Safe? If Not, Are They Easy To Clean?
Most chopper parts are dishwasher-safe (except for the base). This is really convenient as it makes cleaning the machine easily after use.
9. Are There Clear Markings On The Bowl To Prevent Over-Filling?
Over-filling, especially with liquids, can be a real problem and cause foods to pour out from the top. Some models have clearly visible max liquid level markings which help users avoid such problems.
10. Does It Require Users To Press With Their Hands While It's Working?
Some models require you to constantly keep the lid pressed down to work. This can be a real inconvenience as it doesn't allow you to tend to other things while the chopper is working, and can be tiresome if you're using the chopper for more than a few minutes.
Recommended Food Choppers
For full details/ specs/ customer reviews of each model, please visit the product detail page by clicking the model's product image or link:
1. Black & Decker EHC650 2-Speed Food Chopper with 3-Cup Bowl
2-speed food chopper with a 3-cup plastic bowl
150-watt motor
At 150 watts, the motor is powerful enough to chop or mince vegetables, fruits, herbs, cheese, nuts, chocolate, cooked meats, and bread
Soft-grip powerhead for easy one-handed use
Slip-resistant base doubles as bowl's lid for storing food
Stainless-steel blade
Dishwasher-safe parts
2. Black & Decker HC306 1-1/2-Cup One-Touch Electric Chopper
70-watt food chopper for chopping, mincing, dicing, and more
Stay-sharp bi-level curved blade ensures precision cutting
Durable 1-1/2-cup bowl
Large one-touch button with pulse control
Safety-lock lid for secure operation
Dishwasher-safe bowl, blade, and lid
3. Proctor Silex 72500RY 1-1/2-Cup Food Chopper
Compact food chopper
1-1/2-cup-capacity transparent work bowl
Stable base
Pulse function offers control over consistency
Stainless-steel processing blade
Removable parts for easy cleaning
4. Cuisinart Elite Collection 4-Cup Chopper/Grinder
4-cup chopper/grinder with simple touchpad control panel
Auto-reversing SmartPower blade provides a sharp edge and blunt edge
BladeLock system keeps the blade securely in place for safety
Spatula
Includes recipe /instruction book
Dishwasher-safe parts
5. Black & Decker EHC650B Ergo 3-Cup Food Chopper
3-cup capacity with a stay-sharp blade lets you chop, mince and even make salsa
150 watts of power
High/Low pulse button control
Ergonomic grip provides easy use
Safety locking lid
Dishwasher-safe parts for easy cleaning
Storage lid so you can prep and store in the same container
Related Reviews & Guide