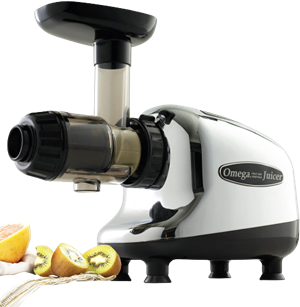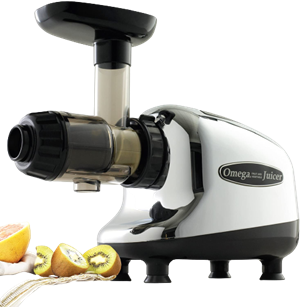 The Omega J8005 Nutrition Center is Omega's second generation horizontal masticating juicer. This model has a smaller body design than the older first generation models, with fewer parts to assemble and wash. It also produces drier pulp.
Please note: Another Omega masticating juicer model, designated J8003, is exactly the same machine as J8005 with similar features & functions. The only difference is the color –J8003 has a white body whereas J8005 is chrome and black, sold at a slightly higher price. Both the J8003/8005 have become Omega's top selling masticating juicers until the arrival of the third generation models J8006 & J8004.
Omega J8005 Nutrition Center Single-Gear Commercial Masticating Juicer
Savings For Omega Nutrition Center [Today Deals]
#
Preview
Product
Price
1
Omega Nutrition Center Juicer (Discontinued by...

$279.99

Check Latest Price
2
Omega NC900HDC Cold Press Juicer Machine,...

$459.95

Check Latest Price
3
Omega J8006 Nutrition Center Quiet Dual-Stage Slow...

$279.52

Check Latest Price
4
Omega J8006HDC Cold Press Juicer Machine,...

$369.95

$213.99

Check Latest Price
5
Omega Nutrition Center Juicer (Discontinued by...

$180.00

Check Latest Price
Key Features & Benefits of Omega J8003/8005:
Patented stone mill-like auger, made of hygienic U.S. FDA-approved melamine, which prevents poisonous heavy metals from mixing with your fresh juices.
Low speed of 80 RPM (75 to 85 RPM range) ensures full taste and the highest nutritional value.
Quiet operation.
Easy to assemble and disassemble for quick cleaning.
Ten-year warranty on all parts and labor.
Efficiently juice hard and soft fruits: even citrus fruits, usually one of the hardest fruits to juice.
Juice all kinds of vegetables including carrots, beets, celery, peppers, and radishes without destroying the natural flavor and nutritional benefits. Fresh taste and full nutrition are guaranteed with this unique extraction process.
Enjoy the best that nature offers in raw foods of all kinds and juice them for full nutritional benefits – Wheatgrasses, kale, cabbage, spinach, and pine tree needles are just some of the natural products that can be juiced with the Omega 8003/8005 Nutrition Center.
As a food processor : The Omega 8003/8005 Nutrition Center chops and minces, providing natural flavor and nutrition from garlic, scallions, red pepper, ginger, and most other foods, including herbs
and seasonings. Soft foods for special diets for babies are quick and easy to prepare with the mincing set-up.
As pasta extruder – Homemade spaghetti, linguini, or breadsticks can be extruded in just minutes with the included pasta nozzles.
As a homogenizer – Make fresh frozen desserts, natural baby food, and nut butters using your fresh fruit and vegetables.
As a grinder – Grind coffee beans and flour.
Omega J8003/8005 Specifications:
Voltage : 120V/60Hz
Motor : 1/3 HP single-phase induction
Auger RPM : 80 RPM (75 to 85 RPM range)
Dimensions : 14.5″L x 6.5″W x 15.5″H
Weight : 16 lbs.
Colors : J8005 – Chrome and Black; J8003 – White
Comparison Chart – J8003/J8005 Vs J8004/J8006:
J8003/J8005
J8004/J8006
Motor
1/3 HP
1/3 HP
RPM
80
80
Auger material
Melamine
HD GE Ultem
Pulp ejection
Auto
Auto
Feed chute
1.5″ Diameter
1.5″ Diameter
Dimensions
14.5″L x 6.5″W x 15.5″H
14.5″L x 6.5″W x 15.5″H
Weight
16 lbs
16 lbs
Color
J8005 – Chrome/Black
J8003 – White
J8006 – Chrome/Black
J8004 – White
Warranty
10 Years
15 Years
Related Guides And Reviews