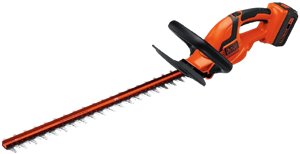 The full description of this item is Black and Decker LHT2436 40V Lithium Ion 24-Inch Hedge Trimmer.
36 volts or 40 volts? Lets clear the confusion first…
If you look at the Black & Decker model of this trimmer, which is LHT2436–the first 2 digits "24" denote the "blade length", and the last 2 digits "36" stand for the battery's "voltage" (see picture on the right). LHT2436 is actually a 36V trimmer. The Black & Decker website states that the new 40V batteries are, quote: "fully compatible with our 36 Volt lithium ion system".
In the case of LHT2436, the maximum initial battery voltage (measured without workload) is 40 Volts and nominal is 36V.
Savings For Best Hedge Trimmer [Today Deals]
Key Features & Specifications:
Powerful 40V Lithium Ion rechargeable battery
Power Drive Transmission cuts up to twice the branches without stalling
24″ blade dual-action blade
Up to 3/4″ cut capacity
Full wrap-around front handle
Soft Grips
Up to 6000 square feet of trimmed hedges per charge
Fast charger recharges 40-volt battery in about 1 hour
2,400 cutting strokes per minute
Weighs 6.9 pounds
Each purchase includes LHT2436 trimmer; LBXR36 40-volt lithium-ion battery; 40-volt fast charger; blade cover; operating instructions
Backed by a 2-year warranty
1. Buy complete set (Trimmer, Battery & Battery Charger).
2. Buy the trimmer only (IF you already have another Black & Decker 36V Lithium Ion tool c/w 36V battery & battery charger). In this case your purchase will only include the trimmer, blade cover & operating instructions.
BOTTOM LINE:
The LHT2436 trimmer is more powerful than most other Black and Decker cordless and electric hedge trimmers, making it ideal for homeowners with large yards. Owners who have other 36-volt Black and Decker products will find the interchangeable batteries convenient and easy to change; buyers have the option to buy the LHT2436 trimmer with or without the battery & the fast charger.
Though not specified in the Black & Decker spec sheet, the battery run-time has been confirmed by several Amazon.com buyers to be more than one hour per full charge.
The Black and Decker LHT2436 trimmer will be a great choice if you have a big garden to maintain. If you're a small garden, Black and Decker LHT2220 is a more economical option.
Related Guides And Reviews