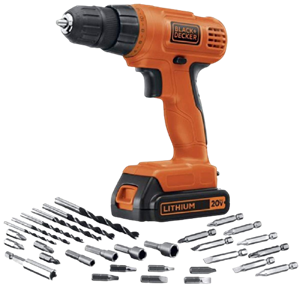 A cordless drill is a portable power tool fitted with a cutting tool attachment or driving tool attachment (usually a drill bit or driver bit). Found in almost any mechanic's, contractor's or DIYer's toolbox, cordless drills are essential power tools that enable you to install just about any fixtures and take apart almost anything that's put together with screws and fasteners.
There are many factors to consider when shopping for a cordless drill in order to buy the best one for your needs without overpaying for capabilities which you may never use. Below are some tips that will help you choose the best cordless drills for your needs.
Stanstips Savings For Cordless Drills [Deals]
Cordless Drill Types
The cordless drills can be categorized into four different types, each designed to tackle a specific range of jobs:
Cordless Screw Drivers
Cordless Drills/Drivers
Cordless Impact Drivers
Cordless Hammer Drills/Drivers
Cordless Screw Drivers:
The cordless screwdrivers have the least amount of power in the 4 drill categories. They are also lighter and more compact than other cordless drill types.
As the name implies, a cordless screwdriver's primary function is to drive screws. Great for tackling light tasks such as woodworking, hanging pictures, or minor home improvement/repairs job, but they are not the right tool for drilling holes.
Typical cordless screwdrivers range from 2.4 to 10.8 volts.
Cordless Drills/Drivers:
Cordless drill/drivers are the most common type of cordless drills that fit the needs of most do-it-yourself homeowners. This versatile tool is capable of drilling holes in wood or light metals as well as driving and removing screws with ease no matter where they are needed.
The cordless drill/driver features an adjustable clutch to regulate the drill's torque, or spinning power and an adjustable chuck that can accommodate different sizes of drill/screwdriver bits as well as hole saws, rotary sanders, wire-wheel brushes, and other accessories.
Cordless drill/driver models can typically range in power from 7.2 volts to 20 volts or higher.
Cordless Impact Drivers:
Best for heavy-duty jobs, a cordless impact driver looks the same thing as a cordless drill/driver but with one exception: It has a collet that accepts hex-shanked driver bits, instead of a keyless chuck as in the case of a basic cordless drill. When the impact driver bit senses resistance as it drives, it automatically increases the level of torque to prevent the bit from slipping out of the screw head. This feature also eliminates the need for a pilot hole.
Though not as effective as basic cordless drills at drilling holes, cordless impact drivers are best for driving screws, including large and long fasteners. So, if your projects require driving lots of very large or long screws, then an impact driver is what you'll need.
Impact drivers typically range in power from 14.4 and 20 volts.
Cordless Hammer Drills/Drivers:
The most powerful of the four types of cordless drills, cordless hammer drill/drivers are best for drilling through hard surfaces such as brick or concrete. But they also weigh more and and make louder noise.
Like a basic cordless drill/driver, a cordless hammer drill has an adjustable clutch with a final setting specially designed for hammer drill use only–set to this mode, the drill bit punches (hammers) in and out while it spins at the same time.
Cordless hammer drills use special bits, and their power range fall between 18 to 36 (40V MAX) volts. .
Power
The primary indicator that determines the power of a cordless drill is its battery voltage, which can range from low of 2.4V to as high as 36V (40V MAX). Although the voltage alone will not necessarily indicate how good a drill is, this is an important factor for most people. Lower-voltage drills are good for light-duty tasks such as replacing door hinges, hanging picture frames, cabinet installation, drilling holes in drywall or other similar light duties.
On the other hand, professionals who work in construction and renovation jobs will most likely need more powerful models which can be used for drilling into masonry or steel or installing decks.
Relatively low power drills (such as 12V models) should be able to do the job properly, such as hanging frames or using the drill for other similar light duties at home.
On the other hand, professionals who work in construction and renovation jobs will most likely need more powerful models (18V, 20V & higher).
Another indicator for a cordless drill's power is to look at the "torque" it delivers. Torque is the measure of how much twisting force (or torsion) is applied by the drill to a fastener. The unit for measuring torque in the U.S.A. is Lb-Inch (Pounds Inch) or Lb-Ft (Pounds Feet), and the SI unit for torque is the newton metre (N·m). Generally, the higher the drill's voltage, the higher will be the torque.
Chuck Size
There are different chuck sizes used in cordless drills; the most common are 3/8″ and 1/2″, which refer to the largest drill bit shank the chuck can accept. The half inch models are considered heavy duty models and generally preferred by the professionals. For the average do-it-yourselfer a cordless drill with a 3/8-inch chuck will generally suffice.
The next important thing is the bit grip. If the chuck doesn't grip the bit well, the users will feel excessive wobbling, which is very uncomfortable and significantly reduces the efficiency of the tool.
And last but not least, it is important that the bits are easy to remove and change. Some models feature keyless chucks that can be tightened with one hand.
Variable Speed and Multi-Stage Clutch
Drill speeds are measured in rotations per minute (RPM). Cordless drills that feature a variable speed trigger allow you to switch back and forth between low speed (around 300-400 rpm) and high speed (around 1,200-1,500 rpm) so that you always match the right speed to the job. Additionally, those with multiple clutch settings and a special mode for drilling will allow for both high torque applications and precision driving.
Most cordless drills are designed to work as a drill/driver combo and perform these functions by offering different speed settings. They offer a fast speed setting with more RPM for drilling operations and a slower speed with more torque for driving screws.
The maximum speed will basically determine how efficient the drill is in opening holes in different materials. As a rule of thumb, it's always better to have higher speed ratings combined with multiple speed options (so that the user can adjust the RPM to his liking). This way, the user can open holes in harder materials and also prevent breaking or cracking softer materials.
The Weight Factor
Most reputable manufacturers are currently focusing on creating more compact and lightweight cordless drills that offer maximum ergonomics and allow the users to work in tight spaces that cannot be reached with bulky units.
The lightweight design is very important, since a light cordless drill will allow the user to work for extended periods of time without too much fatigue. More working time means more work done in less time and is a big plus for both professionals and amateur DIY'ers.
Battery Types and Battery Chargers
Battery type is a key factor that determines the price of the cordless drill. Cordless drills with new-tech batteries (Lithium-ion & nickel-metal-hydride) usually cost more than their conventional nickel-cadmium counterparts.
Most new models use Lithium-ion (Li-Ion) batteries which not only offer increased power, last a lot longer but are also significantly lighter than nickel-cadmium (NiCad) batteries. Currently Li-ion batteries are the smallest and lightest rechargeable batteries on the market.
Though more expensive, Lithium-ion batteries are one of the most popular types of rechargeable batteries for portable devices, with one of the best energy densities, and only a slow loss of charge when not in use.
Lithium-ion batteries are also better for the environment, as they contain no toxic metals (others contain lead and cadmium).
To get the most out of your battery, you'll also want to consider its amp-hours (Ah) rating. This will indicate how long the battery will last.
Some models come with 2 batteries, so that the user can charge one while using the other. This is a great convenience as it allows the user to continuously use the drill without waiting for the battery to recharge.
In addition, certain brands like Black & Decker have interchangeable batteries, which means that you can use the batteries of all B&D tools with your drill. This is added convenience.
The battery charger that comes with your cordless drill is another important factor to consider. There are two common types of battery chargers: Rapid Chargers and Slow Chargers.
Rapid chargers can fully charged a battery in as quick as 15 minutes, while slow chargers can often take a few hours to replenish the battery voltage fully.
A third type called Smart Charger is currently available on the market, which features an indicator light that tells the user how far along the recharging process is and automatically turns itself off to prevent overcharging the battery. Overcharging tends to damage the battery.
Cordless Combo Kit:
Consider buying a cordless drill combo kit to save money. A cordless tool kit comprises 2 or more cordless tools that shares the same batteries and charger.
When you buy a cordless tool combo, you are actually buying whole system. Which means you also get most of the tools and accessories that you need for your projects. Your combo tool set will then have interchangeable parts like batteries and chargers. You'll no longer need to buy any extra power packs or other accessories. You do not normally get the same deal if you opt to buy your cordless tools individually.
Battery Charge Indicator:
Some cordless drill models have battery charge indicators (fuel gauges) that show the user how much charge is left and warn them when it's time to recharge. This is a handy feature to have that further adds to the value and effectiveness of the drill although it doesn't really affect the performance or power of the drill.
Built-in LED Lights:
Some models have built-in LED lights that illuminate the spot the user is working on. This can be very handy, especially when working on darkened corners and such.
Heat Shields and Cooling Fans:
These features protect the cordless drill from overheating so that you can use the drill continuously for a longer period of time.
Accessories:
Some useful accessories are also nice to have though not entirely necessary in order to get the job done. Examples are: Built-in level, auxiliary handle, pressure sensitive triggers and single-sleeve keyless chuck, etc.
Best Lithium-Ion Cordless Drill:
DeWalt DCD780C2 20-Volt Max Lithium-Ion Compact 1.5 Ah Drill/Driver Kit
Two-speed transmission delivers 0-600 RPM and 0-2,000 RPM.
Delivers top-notch power.
Superior performance in light and medium drilling applications.
Lightweight (3.4 lbs).
Quieter than most other 20-volt cordless drills.
Ergonomic handle delivers comfort and control.
Built-in LED work light.
Quick 30-minute charging.
Comes with two Lithium-Ion 1.5-Ah batteries.
Best Cordless Impact Driver:
Milwaukee 2650-21 18-volt Lithium-Ion Compact Impact Driver Kit
Delivers 2,200 RPM and a category leading 1400 in-lbs of torque.
One-handed bit-loading.
Built-in LED light illuminates work surface.
Variable speed trigger to accurately control the 0-2,200 RPM.
Compact & lightweight (a mere 3.5 pounds).
Includes 2 18-volt Lithium-Ion batteries.
Fast battery recharge.
5-year warranty.
Best Cordless Hammer Drill/Driver Kit:
Makita LXPH01CW 18-Volt Compact Lithium Ion Cordless 1/2-Inch Hammer Driver Drill Kit
Lightweight, weighs only 3.4 lbs.
Powerful, delivers 480 in.lbs. of Max Torque.
Variable 2-speed design (0-400 & 0-1,500 RPM) covers a wide range of drilling, driving and hammer applications.
Beautiful & ergonomic design.
Super bright LED light with afterglow illuminates the work area.
Durable – All metal gear construction.
Excellent bit grip.
3.0Ah battery run-time.
Fast 15-minute charging, and the charger has a built in fan to cool the battery.
Great value for the price & quality.
Best Combo Kit:
Milwaukee 2691-22 18-Volt Compact Drill and Impact Driver Combo Kit
Compact drill/driver delivers 400 inch-pounds of torque; weighs 4 pounds; 7-3/4 inches long.
1/4-inch hex compact impact with 4-pole frameless motor delivers 1400 inch-pounds of torque.
Built-in LED lights.
Battery fuel gauges.
Variable-speed triggers.
Fast, 30-minute charger.
Comes with two 1.5 Ah Lithium-Ion batteries.
5-year warranty.
Related Guides And Reviews