1. Gas or electric chainsaw?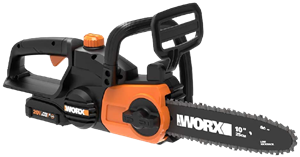 There are two types of chainsaws on the market: gas powered and electric models. Gas powered models (almost always a two-stroke gasoline internal combustion engine) generally provide more power and hence more cutting power. Whereas electric chainsaws offer lower cost and maintenance-free operation since they won't require users to continuously monitor and fill the gas. Electric models tend to vibrate less than gas models and are quieter and safer to use indoors.
2. What's the HP/CC of the motor?
The HP/CC rating of the motor will be the factor that determines the cutting power. What's more important than the rated HP/CC is the actual cutting performance.
Stans Tips Saving For Chainsaw [Today Deals]
3. What is the blade length?
The length of the blade can also be important depending on what you want to cut with it. If you just want to cut branches, bushes, etc. a shorter blade will do; but for cutting trunks, a longer blade is better. Normally, 18-20 inches is a good value.
4. Does the motor start easily?
One of the most important things about a chainsaw is the easy-start feature. If the motor is hard to start, requires a lot of pulls before starting, or gets the motor flooded while trying to start, it will be a real turn off for almost any user. The cold and hot start performance is also important. Most electric models come with a push-button start feature which is a real convenience.
5. Is there a vibration dampening feature?
All chainsaws vibrate to a certain degree (due to the continuous motion of the chain and the resistance applied by the branches/trunks). The amount of vibration determines whether or not users can use the saw for extended periods. If it's vibrating too much, the user will feel tired very quickly and the work will take much longer.
Some (if not most) new chainsaw models come with vibration dampening features that eliminate or reduce this problem.
6. Is the chainsaw heavy or lightweight?
Another factor that determines the usability of the saw is the weight. If it's a lightweight saw, people will be able to work with it longer, getting the job done in less time. If it's heavier, they will get tired quickly and have to take breaks, delaying the completion of the work.
7. Is it easy to adjust the chain tension?
Users will have to adjust the chain tension from time to time (it may get too loose or too tight and need adjustment). The easier it is to adjust the tension, the better it will be for the user. As long as the adjustment is easy to do, they will spend less time doing it and won't suffer from fatigue.
8. Is there an easy oiling system?
Chains need to be oiled with specific intervals (those intervals will vary depending on the model). Some models have auto oiling systems in which the user puts the oil in a specific container and it gets dispensed automatically. This is a very good feature to have since it makes sure that the chain is always oiled and doesn't require the user to deal with it. Unfortunately most chainsaw model on the market do not have this feature
9. Is there a chain break and trigger lock?
These two are important safety features. The chain break allows the user to immediately stop the chain if there's any kickback, etc. And the trigger lock is used to make sure that no one can accidentally start the saw. Most saw models will have these features, and it may be a serious problem if they don't.
10. Are there kickback protection and chain catcher features?
These are additional features that add to the overall safety of the saw. When the saw bites a bigger piece than it can cut, there can be some sort of kickback (or ricochet) that can be very dangerous for the user. Some models have special safeguards against these problems (like guard links on the chain or narrow tips that prevent the saw from cutting into too big pieces). These are very valuable features that ensure the safety of the user.
11. Is there a bar tip guard?
Some saw models have a steel guard that you can place on the tip of the bar, preventing the chain from getting snagged. This is a cool feature to have and it offers ultimate protection.
12. Does the saw have bucking spikes?
Bucking spikes are sharp spikes placed near the end of the bar. What they do is to pierce the log, providing a pivot point from which you can just move the saw downwards for an easy and effortless cut. These will also add to safety since they limit the mobility of the chainsaw and minimize the risk of accidents.
13. Is it fuel/energy-efficient? If it's a gas model, is there a fuel level indicator?
If the model you intend to buy is a gas model, does it consume too much gas? How often do the users need to fill the gas tank? In addition, some gas models have a fuel tank indicator that shows how much fuel is left in the tank. This helps the user to know when to refill.
And if it's an electric model, how long does a charge last? How long does it take to recharge the battery? If it requires constant refilling or recharging, it can be a serious problem and you may want to consider a different model.
Best Budget Electric Chainsaw: WORX WG303.1 16-Inch Chain Saw
WORX WG303.1 14.5 Amp 16" Electric Chainsaw
[AUTO-TENSION] Patented system prevents over-tightening and increases the...
[AUTO-LUBRICATION] Keeps the chain running smooth and fast around the bar...
[CHAIN BRAKE] Prevent accidental cutting with the quick-stop chain break....
As powerful as a gas chainsaw with 3.5hp and 14.5 amp
Light and well balanced
Auto-tensioning system
Gas-free, hassle-free operation; requires very little maintenance
Built-in safety chain brake
Ergonomic full-wrap front handle provide optimum operator control and comfort
Best Electric Chainsaw: Makita UC4030A Commercial-Grade 16-Inch 14.5 amp Electric Chain Saw
Very powerful – best-in-class chainsaw for the professional user
One-touch tool-less blade and chain adjustments
Ergonomically designed rubberized grip handles for comfort and ease of handling
Large trigger switch with soft start for smooth start-ups
Built-in current limiter helps protect the motor from burnout by reducing power to the motor when the saw is overloaded
Best Gas Powered Chainsaw: Husqvarna 450 18-Inch 50.2cc X-Torq 2-Cycle Gas Powered Chain Saw
Husqvarna 450 18-Inch 50.2cc X-Torq 2-Cycle Gas...
Powerful 18-inch gas-powered chain saw ideal for landowners and others who...
3.2 HP X-Torq engine reduces harmful exhaust emissions and increase fuel...
LowVib vibration dampening; minimal effort via Smart Start feature and...
Powerful, 3.2 HP X-Torq engine
Low harmful exhaust emissions
CARB Compliant
Ideal for medium-duty jobs, such as pruning and domestic cutting
Low vibration
Smart Start feature and combined choke/stop control
Ergonomic design – Easy to maneuver
Lightweight (10.8 pounds )
Best Cordless Chainsaw: Oregon PowerNow CS250-E6 40-volt Max Lithium-Ion Cordless Chainsaw
Can power through logs as large as 10 to 12 inches, or cut up to 125 to 250 2- to 3-inch branches nonstop on a single charge depending on standard or endurance battery
Instant start cordless convenience with no pull cords, no warm-up, and no gas-oil mixing
Built-in chain sharpening system
Lightweight (9.3 pounds), easily portable and offers ergonomic comfort
Safety features: A built-in safety chain brake, a low kickback chain/guide bar, a safety trigger interlock, and a control board with overload and heat protection
Related Guides And Reviews