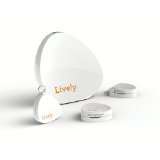 It's important for many seniors to live independently as long as possible and the lively activity Sensors for Living Independently can make that a reality. This is a sensor that helps keep family members informed of important routine activities.
Rather than tracking everything that you do, this has six activity sensors. There's a sensor you can attach to your pillbox. This will let others know that you've taken your medication when you're supposed to take it.
StansTips Saving For Activity Sensors [Today Deals]
There's also a food and drink sensor that you can add to the refrigerator or to other common kitchen objects. The idea is that if you use those items, you're making sure you prepare meals and consume them.
You can also attach a sensor to your keys that will help you measure the amount of time you spend away from home. You can also attach sensors to other objects that you'd like to monitor.
Activity Sensors Features
For example, if you have a favorite place to spend time in your home, you can add a sensor to that area. If you have a loved one who wants to be independent, but you're concerned about making sure he gets his medication and meals, this device is perfect for you as the different telecom company offers the different apps with different features.
It can help you see that he is active and taking care of himself – without you having to call all of the time and invade his privacy. You can also send special messages and photos through the "postal service" included with this device.
You can submit messages through social media accounts or through any computer or tablet. This monitor is easy to install and doesn't even require Internet service.
It operates off of a cellular network, so you will have to pay a monthly subscription service. Even those who live in areas with low cell service can usually use this service.
You'll love that you can enjoy the peace of mind in knowing that your loved one is safe. And she'll love that she can be independent and not feel that she has someone checking up on her all of the time.
This device is simple to use and can delay the need for assisted living care. And you'll find that the Lively Gram is a great way to stay in touch with your loved one – even if she doesn't use social media.
This activity sensor doesn't eliminate the need for giving your loved one a call or spending time with him, but the Lively Activity Sensors for Living Independently will allow you to feel that you can keep track of his safety even when you can't be there.
Activity Sensors Product Highlights:
Easy-to-install Hub: Simply plugs in to install.
Notifications by email or text: Recieve alerts and reminders when you need them.
No contracts, no-hassle cancellation: Monthly subscription to use Lively is pay-as-you-go.
Built-in cellular service: No home internet access or phone line required.
Mobile access: Use Lively on-the-go.
Activity sensors: Track and share your daily living routine.
Two-way connection: Friends and family share details of their lives as well, uploading photos and messages that turn into a LivelyGram.
At-a-glance activity updates: Web login to check activity anytime.
Customer support: Lifetime product and service support provided for active subscribers
Related Guides And Review