The Coleman Sundome 4 Person Tent is a waterproof tent popular among campers. It is more suited for a car trip, or any scenario where you don't have to carry it around for long distances.
The fabric Exclusive WeatherTec System
The Coleman Sundome places extra emphasis on keeping the interiors dry. You could say that this is the least you would expect from a waterproof tent, however, the Coleman Sundome comes with what the company calls the Exclusive WeatherTec System. This means that the tent is made of a coated polyester fabric combined with anti-wicking thread. The floor is made of waterproof plastic.
Coleman Sundome 4-Person Tent, Green
Dome tent with spacious interior allows you to move comfortably
Easy setup in only 10 minutes
WeatherTec system with patented welded floors and inverted seams to keep...
This tent is designed in such a way that the base can be set up by one person. One only needs two shock-corded steel poles, and the tent is almost ready to use. However, the tent comes with a fly for additional protection against water. The fly can be set up by attaching it to the sticks at the corner of the tent one by one. This becomes increasingly difficult in wind. The fly will be blown all around the tent-making setting it up a frustrating experience.
Instant Savings For Coleman Tents [Deals]
Dimensions, Setup And Pricing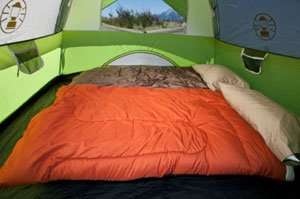 The Coleman Sundome 4 person tent is 59″ (150 cm) high. It has a sleeping area of 63 square feet (5.85 square meters). It is 9′ (274 cm) long on one side, 7′ (213.36 cm) long on the other. It is big enough to put a double or a single air mattress into it. The Coleman Sundome comes with a one-year warranty, so even if you find that it is not big enough, or if anything happens to your tent you can switch to another one.
The Coleman Sundome doesn't have a vestibule. You have to put your bags inside the tent when it is raining.
Do you know: How to Make a Camping Tent from Scratch?
This model is definitely not big enough for four people if you keep your equipment in it as well. I would recommend using a tarp. Not only does it provide additional cover against leaking water, but it can create a small area next to the tent where you can store your staff.
Additional features
There is a small flap opposite to the door that can be zipped. It is designed so that you can reach out for stuff outside the tent instead of having to go out through the door.
There is a mesh vent at the top of the tent. It provides ventilation while it allows you to watch the stars or the clouds while laying down. There is a little clip at the top of the tent where you can hang up your flashlight.
There are two small pockets inside the tent. These can be used to store your flashlight or phone.
Coleman Sundome 4 Person Tent Pros 
The Coleman Sundome 4 Person Tent has an excellent waterproofing system in Coleman's signature WeatherTec System. The tent is very easy to set up and comes with a few features that can make backpacking more fun. For example, the mesh windows at the top of the tent allow the air to circulate and allow you to look at the stars during the night.
Coleman Sundome 4 Cons 
It is a bit on the heavy side as it weighs 10 pounds (4.5 kg). This makes it a lot more suited to trips where you either have some form of transportation – cycling, kayaking, car trips – or you can share the weight of the tent with your partner(s). Unfortunately, the Coleman Sundome doesn't have a vestibule, which is a big minus in my eyes.
Conclusion
Although the Coleman Sundome four person tent is not my favorite backpacking tent out of those I have reviewed, but it is not the worst either. My biggest problem is the lack of vestibule. A vestibule is essential so that you can take off your wet clothes before getting into your tent. I would recommend you check out the Kelty Grand Mesa four person tent if you are looking for a better design.
Related Tent Guides & Reviews