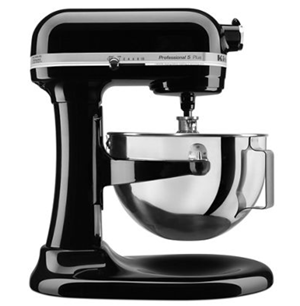 Overview: This KitchenAid Professional 5 Plus mixer looks very much like a classic mixer but has the speed and power of modern-day appliances. It's available in a wide range of colors, making it easy to find the perfect match for your kitchen. With a 450-watt motor and 5-quart stainless steel bowl, the KitchenAid Professional is certainly for cooking enthusiasts.
It can handle large recipes and has a unique mixing action system that ensures that the beater hits the bowl in over 60 different positions.
With a few added goodies, such as a flat beater, wire whip and spiral dough hook, everything you need to get started is included with this model.
Stanstips Saving For Best Kitchen Mixers [Deals]
KitchenAid Professional 5 Plus mixer Specifications & Features:
Powerful 450-watt motor
Dimensions: 16-1/2 x 12 x 14 inches
Ten speeds
5-quart stainless steel bowl
Unique mixing action
Ergonomic handle makes lifting the bowl more comfortable
Includes: Flat beater, spiral dough hook, wire whip, stainless steel bowl
Warranty: 1-year
PROS:
1. Mixing Action:
The KitchenAid Professional 5 Plus has a unique mixing system that's exclusive to its design. With this system, the beater spins clockwise while the shaft spins counterclockwise, meaning the beater moves to 67 different positions in the bowl. You can imagine how well the ingredients get mixed with this type of system, and there's no need for you to move the bowl around.
Do You know: How To Select Buy The Right Stand Mixer In 2021
To make the mixing even more effective are the ten speeds that range from very slow to very fast. The right mixing speed coupled with the unique mixing system make for perfectly blended ingredients.
2. Advanced Features:
If you've ever used a professional mixer before, you understand some of the challenges that come with them: splattered ingredients, an overheated motor and the switching out of various attachments. Fortunately, the KitchenAid Professional 5 Plus overcomes these hurdles with its smart, forward-thinking features.
The Soft Start feature starts the mixer out slow so that ingredients don't splash all over the kitchen. The Overload Reset button eliminates the possibility that the motor will overheat while a convenient hub cover flips up so that you can switch out the attachments with ease.
3. Ergonomic Design:
Right off the bat, the KitchenAid Professional 5 Plus is a comfortable machine to use because it does most of the work for you. Yet there are other features that make this design especially ergonomic, which is a true asset for those who work in the kitchen. The 5-quart stainless steel bowl can be easily lifted out of the mixer thanks to brackets that fit over support pins located on the mixer.
This design is perfect for when you're making large recipes or working with wet, heavy ingredients. It's also very easy to lock the bowl into place when mixing so that everything remains secure.
CONS:
1. Long-Term Durability:
For the most part, the Kitchen Aid Professional 5 Plus has earned itself decent reviews. There are many obvious reasons for why the mixer is well liked, but there have also been a handful of reviews that have reported issues with the mixer's durability. The majority of these issues have all been related to the motor on the mixer, which died prematurely.
In fact, making bread-type recipes seems to be the culprit in many cases, and with a machine that boasts a "professional" design, it seems only natural that you would be able to make all types of recipes, bread ones included. Fortunately, the machine comes with a standard one-year warranty and can help with problems that occur early on, and an extended warranty can be added for peace of mind.
2. Large and Bulky:
If you're limited on counter space or prefer appliances that are small and compact, the Kitchen Aid Professional 5 Plus may not be the mixer for you. The design is rather large and bulky, especially with the oversized 5-quart bowl.
This mixer is intended for larger recipes and heavy-duty use, and with the higher price tag, those that cook a lot will be most willing to purchase this mixer. Also, some reviewers have been disappointed that the 5-quart bowl is the only one to fit as opposed to other mixers that are interchangeable with different sized bowls.
BOTTOM LINE:
The KitchenAid Professional 5 Plus Series Stand Mixer makes a great purchase for those who enjoy cooking, those who have large families or those who host the holidays. Because of its large size, the mixer can handle all types of recipes with ease. Don't forget to check the kitchen aid mixer usage manual for the repairing and usage.
There are a few great features that make this mixer a standout product, including the Soft Start feature for slow startups, an Overload Reset button and the hub cover that flips up for attachment changes. The unique mixing system is the true reward with this appliance and ensures that ingredients are mixed from all different angles for the perfect results each and every time.
Related Guides And Reviews