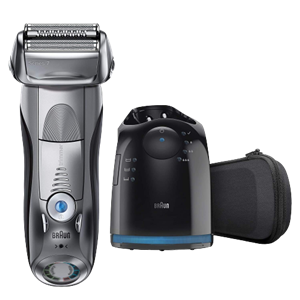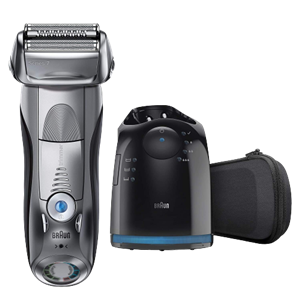 If you're looking for a close, comfortable shave, you'll want to check out the Braun Series 7-790cc. This shaver is loaded with power. The Series 7 is the most advanced and premium shaver line from Braun. This electric shaver includes revolutionary Pulsonic Technology that uses more than 10,000 micro-vibrations to help capture more hair in every stroke.
This pulsonic ability is what allows the shaver to get rid of hair faster and more efficiently than other shavers. There are three ways that users can customize a shave with the Personalization Mode.
These choices are Normal setting, Extra Sensitive or Intensive. What you can do is pick the model that is suited for the kind of facial hair you currently have. For example, if you had a thick beard you wanted to remove, you would choose the Intensive mode.
Braun Electric Razor for Men, Series 7 790cc...
Intelligent Sonic technology automatically increases power while shaving in...
The Series 7 electric razor comes with an ActiveLift trimmer that captures...
OptiFoil cuts hair as short as 0.05mm for perfect closeness
Like other models in the Braun series, this shaver also has the Clean & Renew System. This is an automatic feature that keeps your shaver ready for use every time you need it.
The Clean & Renew System is responsible for the lubricating, the cleaning and the charging of the unit. It even dries the shaver for your comfort. Plus, this system kills germs – so it helps keep your skin free of things that could harm it.
Our Saving For Braun Electric Shavers [Deals]
The shaver comes loaded with top quality features. One of these features is the ActiveLift. Most people think that hair, especially facial hair, grows straight out, almost like it's standing up.
But the truth is that hair can actually grow out flat and across the face and neck. Many men experience this and it's fairly common. But the problem is that the majority of shavers can't shave flat hair.
It just gets passed over – and that's why men can have that "missed a patch" look. But thanks to Braun's ActiveLife feature, the spotted, pathcy look doesn't happen.
This feature will actually lift up the flat growing hair so that it can be shaved. It doesn't matter if the flat hair is located on the face or hard to shave areas, the ActiveLift will still get it.
This model also has OptiFoil as one of the features. This is a design on the head of the shaver that allows the unit to shave hair more efficiently. The head of the shaver can also adjust to contours easily because it has a contour adaptive head.
This lets it easily maneuver over areas like beneath the nose. The electric shaver also has a triple action cutting system. This system utilizes three elements so that whether you're shaving long or short hair, you'll still get a close shave.
If you need to cut a beard, mustache or sideburns, areas that are considered to be tougher shaves, that's not a problem – thanks to the precision long hair trimmer.
Braun Series 7 790cc Pulsonic Shaver System Highlights
Intelligent Pulsonic Technology – Delivers up to 10,000 micro-vibrations per minute to capture and cut more hair in every stroke.
Contour Adaptive Shaving Head – Perfectly adapts to the curves of your problem areas, like your jawline and under your chin.
OptiFoil – The shaving foil's unique design captures more hair and cuts deeper than ever before.
ActiveLift – The world's only patented middle trimmer that actively lifts and cuts flat-lying hair.
Three Personalization Modes – Extra Sensitive, Normal, and Intensive modes for a shave that best fits your beard and skin.
Rechargeable Battery – Provides 50 minutes of shaving from a full charge. Powerful Li-Ion battery does not suffer from the "memory effect" of repeated charges.
Precision Long Hair Trimmer – Specially designed to trim your sideburns, mustache, or beard.
Advanced Cleaning Station – Automatically clean, charge, lubricate, and dry your shaver at the touch of a button. The advanced cleaning station has active inductive drying and a 25-second fast clean button.
Related Reviews & Guides