The Eureka Apex 2X Two-Person Tent measures 7′ 5" by 4′ 11" on the floor. It is big for a backpacking tent, it is almost like if Eureka designed this tent with tall backpackers in mind. It has plenty of headspace with an internal height of 3′ 8", you can sit up comfortably in the tent.
The Eureka Apex 2X Two-Person Tent Review review shows that it has two doors, one on each of the wider sides. Both doors have a vestibule in front of them. If you are backpacking with a partner both of you can store your gear inside these vestibules, not to mention that both of you can get out of the tent easily without interfering with the other person, and for the larger persons, Eureka Titan 8 Person Tent [best for the 8 persons] and Eureka Copper Canyon 6 Tent is recommended by Stan.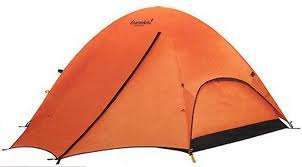 However, the two vestibules and the big space come with a cost. Eureka Apex 2XT Two-Person Tent is a bit on the heavy side for a backpacking tent with its 5 pounds 12 ounces.
If you want to enjoy all the positives of the tent without having to carry more weight you can either ask your partner to share the weight with you, or you can replace the current fiberglass poles with aluminum poles. If you want to be creative then you can make your own tent by following the How to Make a Camping Tent from Scratch at home a good option if you are creative.
StansTips Saving For Eureka Tents [On Sale]
The tent comes with a double-layered waterproof rainfly. The tent has a waterproof floor with a bathtub design. The floor is thick enough to not let any water inside the tent but if you want to be on the safe side, Eureka manufactures a tarp for exactly this tent. However it is heavier than an ordinary tarp, and you can't use it as an auxiliary rainfly, or shade. I would advise you to buy a regular tarp.
Do you know: What Is The Cost Of A Eureka Titan Tent?
The tent has one wall that is made of mesh. This wall provides excellent ventilation, you won't have any problems with condensation. I also like that the tent is very easy to set up. You have to insert the two shock corded poles into the wall of the tent, and you can use it right away.
The tent is free-standing, so you don't need to use stakes to make it stable. However, the stakes are needed if you want to put up the rainfly as well. All in all the whole process doesn't take more than 5 minutes.
A Bonus Tip: Read How to Make Paratha guide for making your food if you are planning your next and want to enjoy the real adventure.
I personally don't like the yellow color of the Eureka Apex 2X. I prefer tents that blend in with the plants in the forest, so yellow is not the optimal color for me. However this is a stylistic consideration, so everyone will have to decide for himself/herself.
Eureka Apex 2XT Two-Person Tent Pros
Eureka Apex 2XT Two-Person Tent is a huge 2 person backpacking tent. It not only has an inside with plenty of space for two backpackers, but it also has two spacious vestibules. It has two doors, both on the wide side of the tent. The floor of the tent is thick and durable, which provides excellent waterproofing combined with the double-layered rainfly.
Eureka Apex 2XT Two-Person Tent Cons
The mesh inner walls of the tent provide excellent ventilation, but the tent can get a bit cold on late autumn days, or early springtime, so the tent is not completely a three season tent. I would call it a two and a half-season tent if such a thing would exist
The tent has two vestibules, it is a bit on the heavy side for a backpacking tent as a result.
Conclusion
Eureka Apex 2XT Two-Person Tent is a big tent for a two-person backpacking tent. It has two big vestibules and two doors. It is completely waterproof thanks to the double-layered rainfly and the thick bathtub floor. The mesh wall provides excellent ventilation, but this also means that it can get a bit chilly inside the tent on a cold November day.
Other than the slightly heavy weight I can't complain much about this tent. You can find lighter backpacking tents if you can't share the weight with your partner, but I think this is a very good backpacking tent.
Relevant Tent Tips And Guides